Biography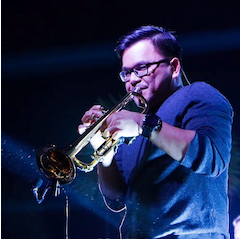 Jaturong is now a trumpeter with Thai artists "Singto Numchok" (Lucky Band) and "Zao Za-dung Band". He is the band director of Debsirin School Band. He is also a music composer and music arranger.
He started to play trumpet when he was in secondary school. He earned degrees and graduated from Bachelor of Fine and Applied Arts Program in Music (B.F.A. (Music)), Srinakarintarawirote University with Vanich Potavanich.
He began working in music profession since university. He is a trumpet player with various artists. Besides, he is also a music composer and arranger for leading marching bands both in Thailand and international.
Jaturong has his own YouTube channel "noombrass", which records about his travel and published his own work as well.
Other Brass & Woodwind Artists