Warm wood-shell tone with extraordinary clarity and presence
Developed through long-term evaluation and field testing in the U.S.A., the world's marching hub, this flagship snare drum series achieves enhanced tone and playability with reduced weight.
Improved Tone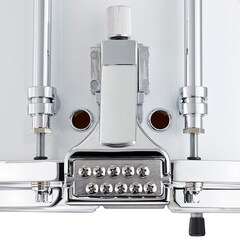 Improved Tone
While retaining the maple shell material that was so popular in the 9300 series, these models feature extra vent holes and additional wood material that contribute to notably improved tone.
Reduced Weight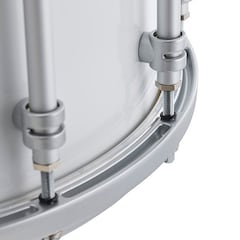 Reduced Weight
Metal parts have been redesigned to reduce weight without compromising tone or durability, effectively reducing stress on players throughout the most active performances.
Improved Operability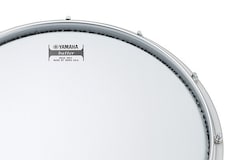 Improved Operability
A redesigned strainer, playing head hoop, and other features contribute to improved operation and functionality.
Short model with 14" diameter and 9" shell depth. With a shell depth that is 3" shorter than the standard models, this snare drum delivers superb snare response in a lightweight instrument. Chrome plated metal parts, including top and bottom hoops.
Chrome parts: top and bottom hoops, suspension ring, lugs, lug posts, strainer.
Notice
MSH-9500 and MS-9500S carriers are compatible with the MS-9414 series. Carriers that use a slide attachment are not compatible.
The colors and finishes shown may vary from those on the actual products.