Dedicated applications from Yamaha offer new ways to play instruments.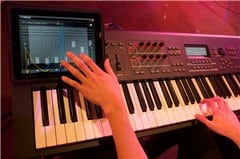 For those who have i-MX1 and Yamaha synthesizers, there are lots of applications that will expand the functions of your instrument. Each App can be easily used just by connecting the instrument and iPad / iPhone with i-MX1 cable.
You can edit the sound of Motif XF or MOX using the large display of iPad. Also the additional functions such as drum pad or arpeggiater can be easily added to your synthesizers.
Play your instruments with the Core MIDI compliant Apps.
Your MIDI instruments will be expanded with all the Core MIDI compliant Apps on the market. For example, you can practice the piano songs using a digital piano and Notation App, record your drum pattern using an electronic drum kit and music production apps, or play a variety of sounds using synthesizers and virtual instrument apps. All these combinations can be realized in many ways by using i-MX1 and instruments.