AMG Performance Center, Kyobashi by YANASE & Co., LTD.
AMG Performance Center, Kyobashi by YANASE & Co., LTD.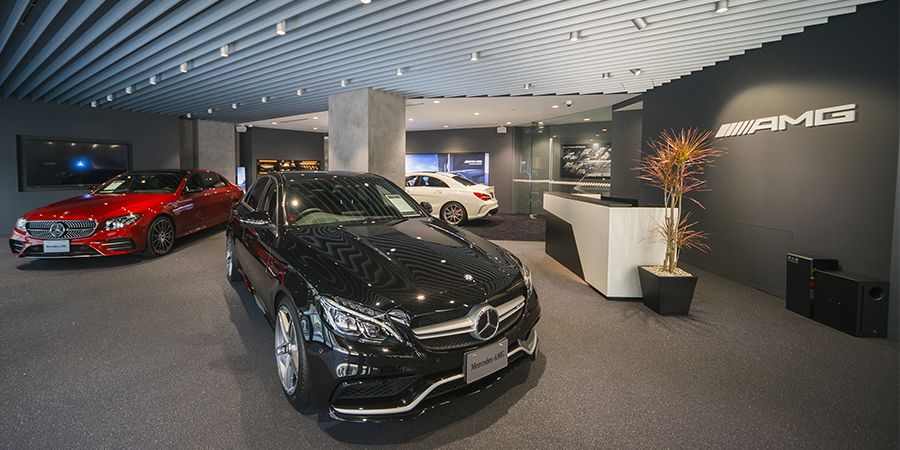 AMG Performance Center, Kyobashi was opened in October 2017 by YANASE CO., LTD., one of the most traditional import-car dealers in Japan since 1915. Yamaha VXS5 and VXS5W surface-mount speakers, a VXS10ST subwoofer, and a PA2120 power amplifier were installed to deliver sound throughout the showroom. We spoke to Mr. Noriyoshi Aoyama, supervisor at the AMG Performance Center, and Mr. Takashi Okada, sound designer and planner with Master Mind Productions, Inc. the company commissioned to produce the audio installation.
To begin, tell us about the AMG Performance Center, Kyobashi.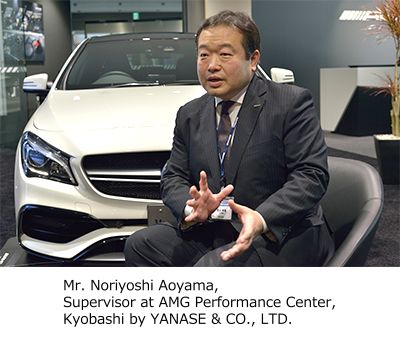 Mr. Aoyama:
The AMG Performance Center, Kyobashi was opened on October 14, 2017. Within the Mercedes Benz lineup, AMG models are aimed primarily at the sports car market, and deliver the highest quality and performance. It is our goal to further raise the brand awareness of AMG. There is a Mercedez Benz Showroom in Shibaura, Tokyo, where customers can inspect AMG models. Meanwhile, we wanted a showroom that would be more accessible to people in the Chuo-ku area, and decided to establish a new showroom dedicated to AMG models. There are very few showrooms of this type in the country.
What type of customer does the AMG Performance Center, Kyobashi cater to?
Mr. Aoyama:
There are a number of major corporations in the area, so business people drop by during their lunch break or on the way home after work. The Kyobashi area has a long history that goes back to the Edo era, and that might be why it has a reserved, "matured" atmosphere. People who live in the neighboring Nihonbashi and Ginza areas often visit as well, to inspect and consider the cars in a relaxed salon environment.
The reserved atmosphere of the showroom matches the AMG image very nicely.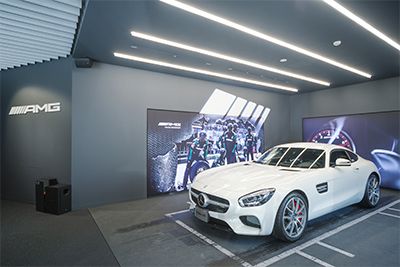 Mr. Aoyama:
AMG models have their origin in car racing, with a distinctive blend of racy "toughness" and a sort of inorganic character. That's why we have created an area in the showroom that resembles a race circuit pit.
And now a few questions for Mr. Okada of Master Mind Productions. How was the AMG showroom sound system designed to match its sophisticated atmosphere?
Mr. Okada:
Considering the size and shape of the space, we started with four speakers suspended from the ceiling. To support the sporty, dynamic AMG image we added a single subwoofer, located beside the counter in the center of the showroom.

Why did you choose VXS5 speakers?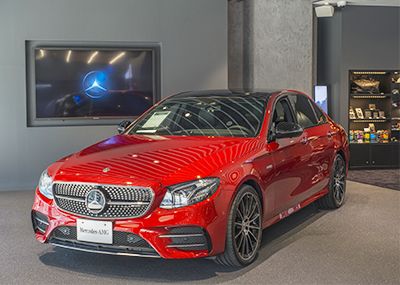 Mr. Okada:
Before choosing a specific model, we had already decided to use Yamaha speakers because of their superb reproduction quality. We have installed a large number of VXS5 systems in the past, all with excellent results. The frequency characteristics, wide dispersion, and excellent response of the VXS5 always remind us that it was Yamaha who created some of the most widely used studio monitor speakers, such as NS-10M, in the world. Another key factor is that Yamaha are known for their fast, efficient after service. The VXS5 was chosen for its compactness and design. Visual presentation is critical in a showroom situation, so we needed speakers that would not detract from the décor and atmosphere in any way. The simple elegance of the VXS5 cosmetic design was a perfect match for the showroom, and the availability of black and white versions was important too. We installed two pairs, one black and one white, to match specific locations in the room.
And what about the VXS10ST subwoofer? What was behind that choice for background music in a showroom?
Mr. Okada:
It is not always the case that we use a subwoofer for background music reproduction in a space like this, but we felt that a subwoofer would complement the high-quality AMG image. By filling out the low end with the subwoofer, the relatively prominent high-frequency output of the rest of the system is nicely balanced, producing a smoother sound that fills the entire space.
A PA2120 power amplifier is installed in the backyard. Why was that particular model chosen?
Mr. Okada:
That choice was based on our need for a power amplifier that would be capable of driving two separate high-impedance speaker systems. One set of outputs would normally be enough, but we wanted separate outputs for the VXS5 speakers and the subwoofer.
Why the need for separate VXS5 and subwoofer outputs?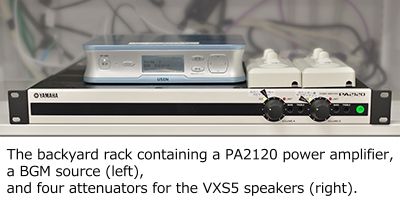 Mr. Okada:
There are two reasons. The first is that it allows us to easily balance the VXS5 and subwoofer output levels. If the low frequencies seem a bit overpowering the subwoofer volume can be reduced quickly and easily. The second is system stability. By using separate outputs for the main speakers and subwoofer, system load is distributed and the risk of failure is reduced. In this system we also provided independent attenuators for each of the four VXS5 speakers, so that their relative volumes can be conveniently adjusted. This makes it possible to reduce volume in an area where an important meeting is to be held, for example.
Tell us how Master Mind Productions became total producer, from audio system design to content selection.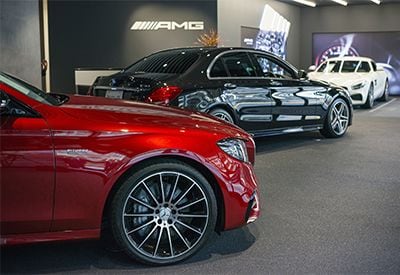 Mr. Okada:
Our company is based on music production and programming, and we have been commissioned to produce a large number of music projects and events. The YANASE company has a deep understanding of sound and music, and while we are often asked to just select the music to be delivered via the speakers suspended from the ceiling, in this case they asked us to take part in the overall space design. Hardware selection is an important part of sound environment production, so we handled design and installation of the audio system as well as music programming.
Mr. Aoyama, what is your impression of the Yamaha system now that it has been in operation for a while?
Mr. Aoyama:
I am very happy with the results. The sound system is superb, and it is an ideal match for our showroom. Having been involved with the legendary Toyota 2000GT sports car*, and introducing numbers of motor bikes and yachts, Yamaha has a good understanding of vehicles that seems to make us very compatible.
* In 1964 the Toyota Motor Corporation and Yamaha Motors entered into a collaborative project in which Yamaha would work to improve engine performance and reducing the weight of chassis and bodies.
The music programming is very classy too.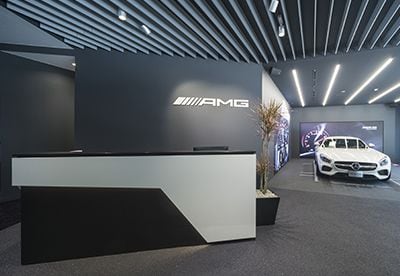 Mr. Aoyama:
The music selected by Master Mind Productions plays an important role in creating the AMG showroom atmosphere. Particularly here in the relatively small Kyobashi showroom where only a few cars are displayed, the music is a vital ingredient. AMG cars are sports oriented, with race-car solidity that is fundamentally mechanical and inorganic. One wrong element can result in an environment that feels cold and barren, but in this case the music selection elevates the atmosphere to an ideal level of sophistication.
Mr. Okada:
"Solidity" is a key concept that was the basis for our music programming here. We delivered four playlist channels, three of which we had already programmed for the Mercedes Benz showrooms by YANASE Tokyo Sales Division. The fourth playlist was programmed specifically for the new AMG Performance Center, Kyobashi. We felt that the underlying AMG solidity could be best expressed through the straightforward simplicity like, let's say, minimal techno music. We continue to make changes now that the showroom is complete and we are able to review the playlist in its intended environment.
What are the future goals for the AMG Performance Center, Kyobashi?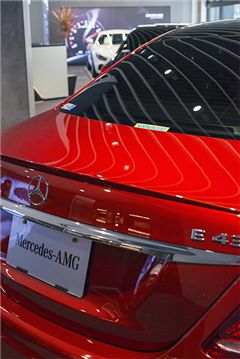 Mr. Aoyama:
We take pride in the fact that every aspect of AMG cars is produced to a very high standard. We hope that the showroom will contribute to bringing top-quality AMG cars from Germany to Kyobashi, a Japanese town that is rich in history and tradition.
Thank you for taking time out of your busy schedules to talk to us!
AMG Performance Center, Kyobashi by YANASE &CO., LTD. Tokyo Branch
AMG Performance Center, Kyobashi by YANASE & Co., LTD.