Biography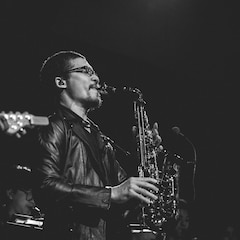 Wisuwat Pruksavanich's Hard Fairy released on November 2012. Performing magnificently to explore every possible sound of the saxophone, he received high acclaim by James J. Ogburn, once chair of Music Composition and Theory Department at Mahidol University's College of Music:
"…His sensitivity, comprehension, and the indisputable mastery of his execution captivate me, not to mention his technical prowess in the challenging musical language of contemporary composition..."
Wisuwat Pruksavanich is the first Thai saxophonist in contemporary classical music to become a Yamaha Artist. He has made his name on the world stages as soloist in Narong Prangcharoen's world premiere "The Dawn of Darkness" at Ki Zu Na Concert 2012, Sumida Triphony Hall, Tokyo Japan. As a member of Siam Saxophone Quartet, he performed world premieres, Robert Lemay's Ligne(s) médiane(s) and James J. Ogburn's Gliese 581g at the 16th World Saxophone Congress 2012, St Andrews Scotland.
Born in Thailand in 1985, Wisuwat grew up in Hatyai, Songkhla and began saxophone practice in Saengthong Vitthaya School Marching Band at the age of ten. The passion for contemporary classical saxophone music led Wisuwat to move from Hatyai to the College of Music, Mahidol University where he met his inspirational professor, Mr Shyen Lee, for pre-college, undergraduate and graduate programs.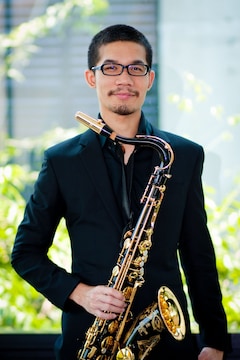 Over the years, Wisuwat attended master-classes and workshops with world-famous artists such as Jean-Marie Londeix, John Sampen, Roger Greenberg, Claude Delangle, Jean-Pierre Baraglioli, Chien-Kwan Lin, Richard Dirlam, William Street, Keiji Munesada, Joseph Luloff, Federico Mondelci, Eric Nestler, Eugene Rousseau, Yang, Jean Yves Fourmeau, Vince Gnojek, Richard Ducros, Christian Lauba and John Myung.
Christian Lauba, a French composer, while randomly watching youtube came upon a video performed by Wisuwat — Hard too Hard, one of Christian's toughest compositions. He invited Wisuwat to join his master class in Lisbon, Portugal.
Wisuwat also obtained several prizes at national and international level in Saxophone related music competitions: 1st Prize from 9th Asian Symphonic Band Competition 2007, 1st Prize, Thailand Yamaha Big-Band Competition 2000, 2nd Prize, from Chiang Mai Ginastera International Music Festival and Competition 2016, 2nd Prize, from 8th Osaka International Music Competition Osaka Japan 2007 and so on. Recently the Hard Fairy album was nominated for Best Instrumental Album and Wisuwat himself was nominated for Best New Artist at the 11th Komchadluek Awards.
Today, Wisuwat is a doctoral student at the Academy of Music in Krakow, Poland with Professor Andrzej Rzymkowski. Moreover, a saxophone instructor at Mahidol University's College of Music and a saxophonist in Cloud Wanderer, Bun-Leng Project.
CD
- Wisuwat Pruksavanich "Hard Fairy" Album
Other Brass & Woodwind Artists