Biography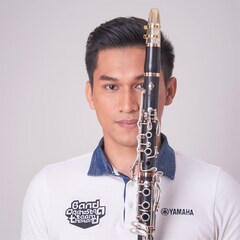 Young Thai Clarinetist, who can play various music styles such as Classical ,Jazz , Pop and Thai Traditional Music.
He was born in Khonkaen City (Northeast Thailand).
He began playing clarinet at age 12 by studied with Mr.Kamol Laokam , Asst.Prof Choowit Yurayong and Asst.Prof Dr. Yos Vaneesorn.
He graduated bachelor degree in Music Education from Chulalongkorn University and Master degree in Music Research and Development from Silpakorn University.
In 2010, he got a scholarship to Musica Mundi Chamber Music Camp (Belgium). At that time, he had the opportunity to study with the world's famous clarinetist, Walter Boeykens and also had chances to masterclass with Sergio Bosi , Walter Boeykens , Eiji Taniguchi , Martin Spengenberg , Nicola Jorgensen and Gilad Yehuda.
He is an active member in many orchestras, including the Asian Youth Orchestra (AYO), Southeast Asian Youth Orchestra and Wind Ensemble (SAYOWE) ,Thailand Youth Orchestra, Siam Sinfonietta, CU Clarinet Ensemble which performed in International clarinet festival Italy (2013), Spain (2015), and Belgium (2018), Ferochi Philharmonic and also play Jazz and performed in Asian Youth Jazz Orchestra (AYJO)2015-2016.
Recently, he was invited to be the guest for "Jazz in July", at Esplanade Theater in Singapore.
He placed first in the Thailand International Band Competition, and received 2nd Prize in the Thailand Clarinet Competition.
Apart from his performing activities, he is also involved in a wide range of activities as a lecturer of Faculty of Fine Arts Ramkamhaeng University , Music Director of The demonstration school of Ramkamhaeng University Band, MUSE Institute and Yamaha Clarinet Artist Thailand.
Other Brass & Woodwind Artists