Biography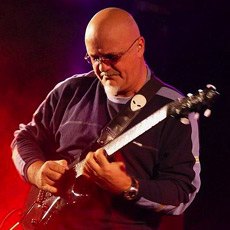 Born in Canberra in 1959, Frank Gambale started playing at the age of seven, influenced initially by bluesers such as Hendrix and Clapton, then in a jazzier direction by the likes of Chick Corea and Steely Dan. In 1982 he moved to the US, studying at Hollywood's Guitar Institute of Technology, graduating as Student of the Year and being offered a teaching post which he filled for four years, during which time his first tuition book, Speed Picking, was published. Frank's first instruction videos, a series of three, appeared in 1987.
The previous year saw him secure a three-album contract as well as touring with Jean-Luc Ponty, which quickly led to a six-year stint with one of his heroes, Chick Corea. Of the five albums recorded with Corea, one took a Grammy award, two others were nominated. 1990 saw a major international solo success for Gambale with the release of Thunder From Down Under, which at one point topped the Japanese jazz charts, accompanied by his three previous albums all within the top 10!
Two years later, Frank finally ventured out on his own and has been recording and touring with his band ever since, also conducting numerous seminars and masterclasses the world over. In 1996 he was appointed Head of Guitar Department at the new Los Angeles Music Academy, where he wrote the core curriculum/study syllabus and continues to teach there when he is in town.
Apart from recently forming his own label, Wombat Records, and signing a two-album deal with Steve Vai's Favoured Nations label, Gambale remains very busy with collaborative projects. He has contributed to the group Vital Information for over 13 years, and has released three well-received trio recordings with bassist Stu Hamm and drummer Steve Smith. One of Frank's high points of 2002 was a live DVD - Concert With Class - which offers viewers not only a 90-minute concert but the same running time of instructional material relating to the performance. The autumn sees a planned reunion tour for Chick Corea's Elektric Band in celebration of Corea's 60th birthday, which apart from Gambale also features other Yamaha artists, bassist John Patitucci and drummer Dave Weckl.
Other Guitar & Bass Artists