Yamaha and Nexo host House of Worship Technologies Conference in Singapore
Yamaha and Nexo host House of Worship Technologies Conference in Singapore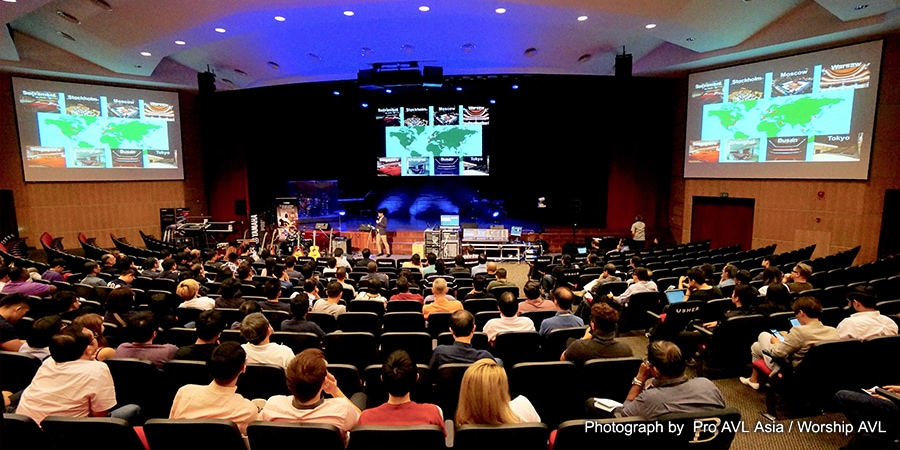 Mr Hashimoto's provided examples of applied Yamaha AFC technology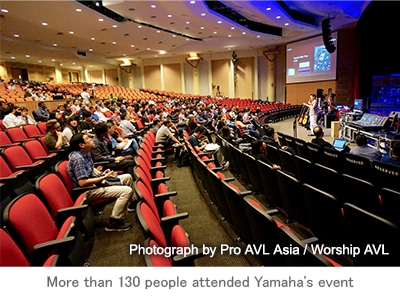 More than 130 delegates, mostly sound engineers, technical personnel and leaders from local worship facilities and congregations, have followed an invitation by Yamaha Music (Asia) to attend its House of Worship Technologies Conference at Singapore's RiverLife Church. Aimed at providing a better understanding and knowledge of acoustics, sound integration and digital audio networking and signal processing in worship, the conference saw three presenters flown in.
In the opening session, Dai Hashimoto, acoustician at Yamaha headquarters, introduced the crowd to his work in the research, development and design of Active Field Control (AFC), Yamaha's acoustic enhancement system. Using a church design example as well as referencing a number of other AFC installations around the world including one of four currently in Singapore, Mr Hashimoto was able to explain the benefits of flexibly and cost-effectively improving room acoustics by means of DSP rather than by altering a room mechanically.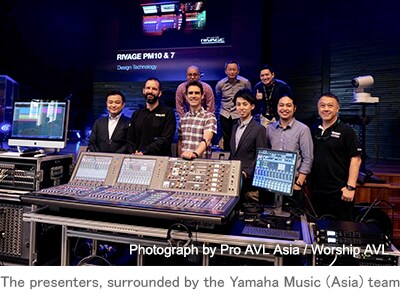 Though not home to an AFC system, RiverLife Church proved to be the ideal location for the event since its worship centre, the main auditorium, had undergone a major upgrade of its sound system only a few months before, with a Yamaha Rivage PM10 console and a Nexo GEO M10 system including LS18 subs as main components.
'Having recently completed the project, showcasing it to other worship technicians seemed like a good idea,' stated Lawrence Tan, assistant general manager of Yamaha Music (Asia). 'We were lucky that the church not only allowed this but is also happy to help with education and advice for other religious organisations.'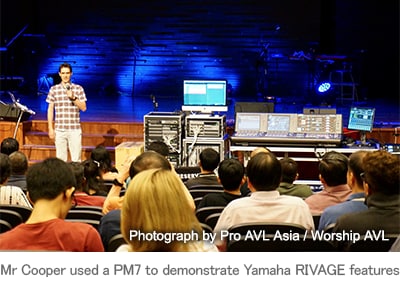 'Our church is happy to help other churches, and this event lets others benefit from our good experience,' agreed Jerry Chua, RiverLife's sound engineer. 'Our worship leaders are very happy with the recent upgrade to Yamaha and Nexo, and so is the congregation. We don't need to go loud, yet intelligibility is great and musical performances sound both sweet and punchy.'
After a quick but entertaining run through Yamaha's mixer history dating back to the early 1970s, Andy Cooper, pro audio manager of application engineering from Yamaha's R&D centre in London, used an additional PM7 to explain the UI and features of the Rivage digital mixing system, including demonstrating plugins such as Rupert Neve filters and compressors by playing sound samples. Mr Cooper then went on to elaborate on the digital audio and control networking capabilities of the PM range based on Dante and Yamaha's proprietary TWINLANe fibre ring topology.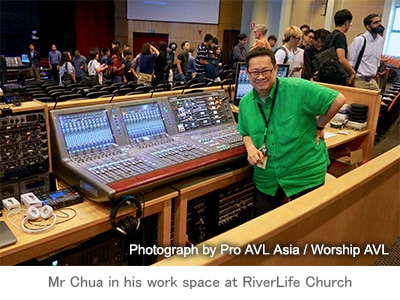 For the third presentation, Nexo's training manager Nicolas Poitrenaud had come to Singapore. Following his overview of the manufacturer's history, achievements and R&D and manufacturing facilities, Mr Poitrenaud continued describing Nexo technology and products as well as loudspeaker system design specifics relevant for worship environments.
The conference drew to a close with a 30-minute live musical performance of RiverLife Church's worship leader and a full band.
Photograph & Article by Pro AVL Asia / Worship AVL
Yamaha and Nexo host House of Worship Technologies Conference in Singapore