Yamaha RIVAGE PM10 Brings Luxury Sound To Seongnam
Yamaha RIVAGE PM10 Brings Luxury Sound To Seongnam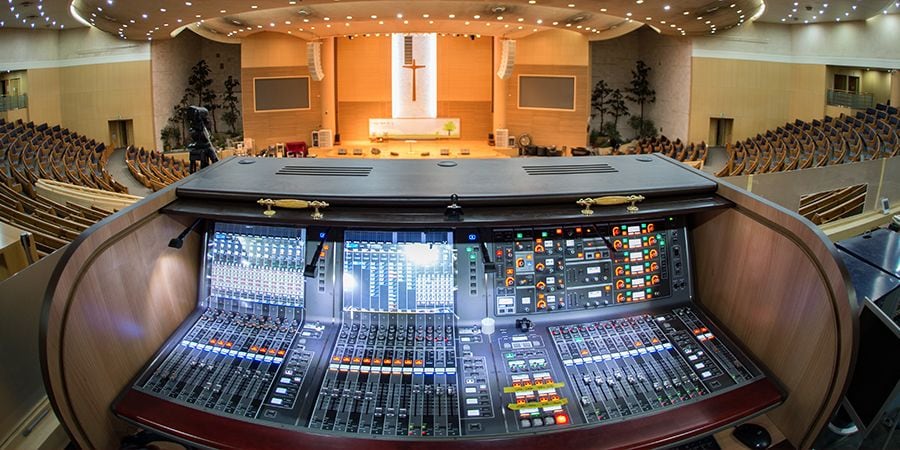 One of South Korea's most popular churches, the Good Shepherd Church in Seongnam, has recently invested in a Yamaha RIVAGE PM10 digital mixing system to further enhance the experience of its thousands of worshippers.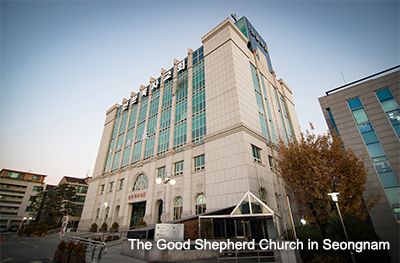 With it's population of around one million, Seongnam City is the 10th largest city in South Korea and is one of the growing number of satellite cities that border the capital city of Seoul. Sat in the heart of the densely populated urban area, the church acts as a focal point to the large population of Methodist Christians who live and work in the area.
The church and its followers dedicate themselves to a number of community and humanitarian activities throughout the year. These include an extensive homeless care programme, food sharing for people with lower incomes, a library for children and students and movie screening for local residents, who might not otherwise be able to afford such entertainment.
Leading the church's 20 pastors is the nationally revered Pastor Yoo Ki-sung, whose powerful sermons draw followers from throughout the country.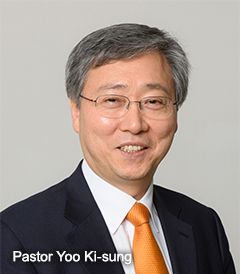 At the heart of the church building is a 2500-seat worship hall, with a further 15 meeting rooms located around the building. These additional rooms are all equipped with audio and video feeds from the main hall so they can be used for individual activities and, also, as additional seating at peak periods such as Christmas, when the main hall is filled to capacity.
Every Friday evening the church holds a full service and there are a total of five services throughout each Sunday. Sound for the services is lead by a dedicated team of audio engineers, supported by a number of volunteers.
"As well as the sermons, we have a range of performances from our worship bands and choirs," explains audio team leader Kim Hyun-suk. "Instrumentation ranges from rock drums, bass, guitars and keyboards through to grand piano and acoustic strings. There's even a gong on stage that we don't tend to mic up. Musicians sit either side of stage leaving the main stage area for the pastor and singers.
"For the past 15 years, we've been using an analogue console to perform mixing duties but, in recent years, we've been struggling to keep it maintained and delivering the kind of performances that we and the musicians have experienced on more modern systems."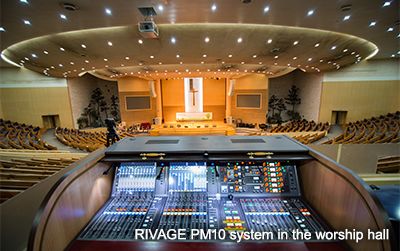 Because of this, a special task force was set up at the church made up of pastors, elders and in-house audio engineers. Their job was to specify a new digital mixing system with the best balance of specifications, usability and price.
"We researched and trialled systems by all the usual manufacturers and eventually settled on Yamaha," says engineer Cho Chi-hyuong. "Apart from satisfying our sonic and ergonomic needs, one of our main criteria was that the system had to be reliable. Our experience with Yamaha consoles while working at rental companies, and of three years using them at a Hillsong Church in Australia, gave us the extra reassurance that the Yamaha would serve us well for many years to come."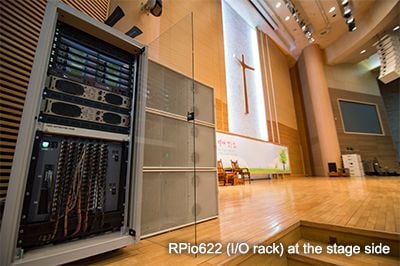 "Eventually we settled on an 80 input by 30 output RIVAGE PM10 system, which was installed by Seoul-based Sound Korea ENG. Once we'd had training from the Yamaha Korea product specialist, we were able to start building our sound. The old analogue console had a good sound that we liked but, at the end of the day, it was just one sound. The possibilities with RIVAGE PM10 are endless."
"We think it is very important to understand the possibilities of the combination of the preamps, the Rupert Neve SILK settings and plug-ins so it is a big focus for us at the moment" adds Kim.
"We are also currently training our volunteers to use the system. A very useful feature of the control surface is being able to split the fader banks into two, which allows one of our in-house engineers to operate front of house on one fader bank, while we babysit one of the volunteers who mixes monitors on the other. And that brings me to looks - it's a great looking desk to stand behind during a service!"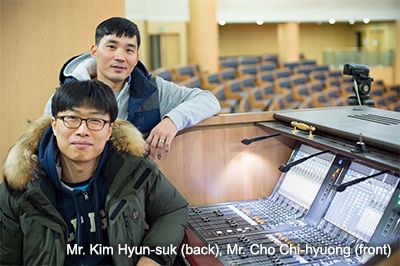 "Now that we have the luxury of a RIVAGE PM10 system in our church, it has also meant that the quality of our sound recordings and broadcasts is much improved. Such is the fame of Pastor Yoo Ki-sung that every single service is broadcast live on the internet and simultaneously recorded. We record from the Dante network straight into Nuendo or ProTools for the larger worship band recordings. For the simpler voice recordings of the sermons we go via AES/EBU into Adobe Audition."
"The whole PM10 system has significantly expanded the options and possibilities that we have here in the church. We are really looking forward to exploring them throughout 2018."
Yamaha RIVAGE PM10 Brings Luxury Sound To Seongnam