Yamaha's Westminster Presence Grows With State-Of-The-Art Central Hall Installation
Yamaha's Westminster Presence Grows With State-Of-The-Art Central Hall Installation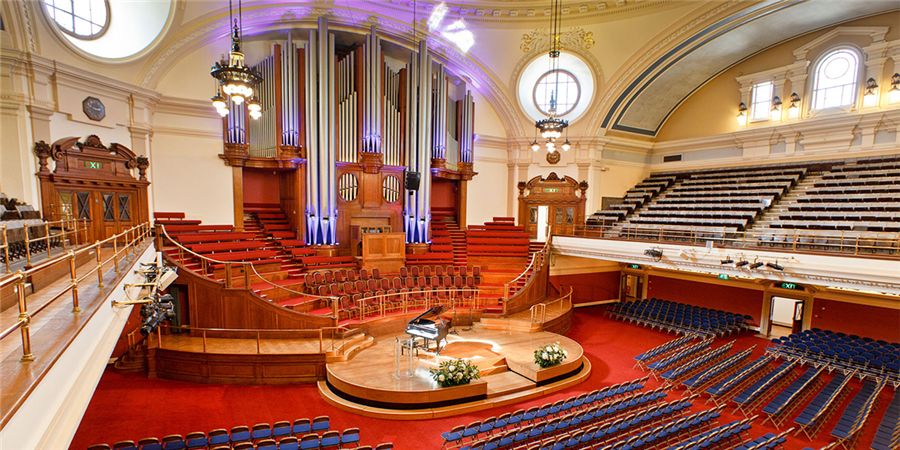 In recent years, audio installations at Central Hall Westminster, Westminster Abbey and the QEII Conference Centre have seen Yamaha become a key presence in one of London's most important and influential areas. That role has seen a further significant boost in 2016, with a second - much larger and more complex - project at Central Hall.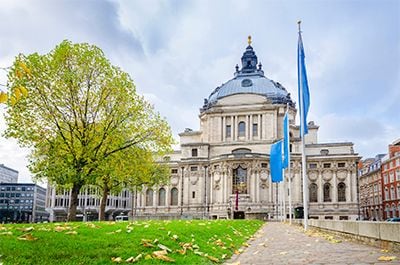 Offering the largest conference and events space in central London, Central Hall Westminster (CHW) features a 2,400-capacity auditorium (the Great Hall) and a number of other rooms and spaces in the stunning Grade II-listed building, which together host over 700 corporate and (regularly televised) public events every year. It is also a vital resource for many important events which take place nearby. As well as hosting events and breakout sessions from the Palace of Westminster, CHW is regularly used as a media hub for major Parliamentary developments (including broadcast debates and interviews) and weddings at the Abbey.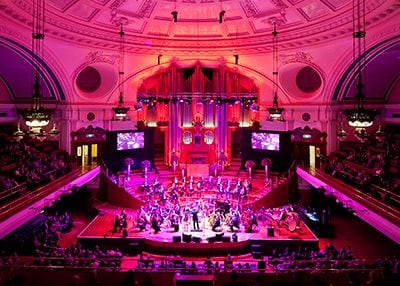 Since 2001, over £16m has been invested in technology and restoration projects, which have brought the architecture of the building back to its original condition, but with a thoroughly 21st century infrastructure. Yamaha's initial involvement at CHW was in 2011, with saw the installation of an LS9 digital mixing console in the Great Hall. The latest project - designed and installed by the venue's production service partner White Light - is a comprehensive networked audio system, as well as a major update to the digital mixing facilities in the Great Hall.
"Yamaha's Commercial Installation Solutions (CIS) range sits exactly in line with what we're trying to do; pushing new products forward and embracing the latest technology. It was ideal for our requirements at Central Hall, particularly being integrated with Dante," says White Light's Lee Dennison.
"The initial brief from CHW was that the audio system needed to be installed in four main meeting rooms and be completely automated, with no human operation required. It would need to be able to work and react by itself and also to self-mix and self-balance, which we knew Yamaha's Dan Dugan auto-mixing technology would be ideal for. The MRX7-D processor seemed the perfect choice, which was confirmed in the discussions we had with Yamaha."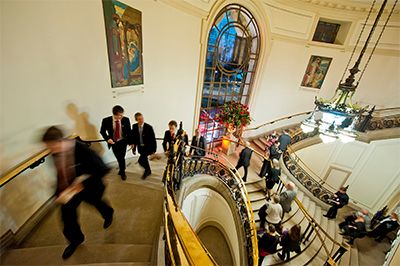 The specified system is the same for each meeting room, featuring an MRX7-D with XMV4280-D four channel, Dante-enabled power amplifier. Loudspeakers in each space comprise pairs of surface-mount VXS5 with VXS10S subwoofers.
However, that was just the beginning. Four further spaces were quickly specified to feature MRX7-Ds, along with other Yamaha equipment, including an MTX5-D matrix processor and a pair of MSP5 studio monitors. At the same time, the Great Hall's audio system was updated to include QL5 and QL1 digital mixers and two Rio1608-D i/o units, complete with MY4-DA4 output cards. With a Dante network installed throughout the CHW complex, White Light designed an expandable system which will make the venue a truly connected events space.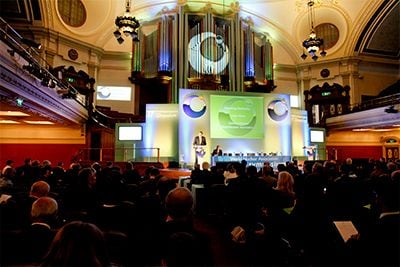 "In each room there are local inputs for microphones and laptop outputs, as well as two channels of radio microphones. In addition every space is equipped with visual playback facilities, which are linked to the audio system," says Lee. "One of the many advantages of using the MRX7-D is that the system is designed for all of the rooms to be able to talk to one another, and for any Dante signal to be able to be passed to any Dante receiving module within the venue."
In order to make the systems as straightforward to use as possible, control of the Yamaha equipment sits beneath a bespoke Crestron system. Designed by White Light, the system allows anyone using the spaces to adjust the sound, lighting and video projectors.
"The main technical challenge was getting all the various units to communicate independently at the same time as sitting on the Dante network," says Lee. "Ultimately, the systems in all of the individual rooms needed to self-manage, but also be monitored over the network from our central control room, from where inputs and/or outputs could be patched to or from any space that requires them.
"This flexibility is at the heart of the system and the integration of the Yamaha processors, amplifiers and loudspeakers is seamless. The fact that, for instance, main plenums can now take place and talk into and out of breakout spaces as well is largely thanks to the versatility and quality of Yamaha audio products."
He concludes, "The CIS series allows us to design bespoke systems that work perfectly as soon as the products are off the shelf. Put simply, the Yamaha CIS product range is just really, really good."
Yamaha's Westminster Presence Grows With State-Of-The-Art Central Hall Installation