Biography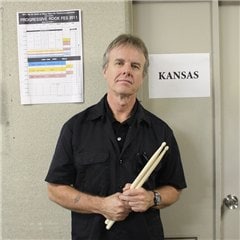 Phil Ehart was born in the state of Kansas. This was to work well geographically, as he founded the band KANSAS, 21 years later.
But before that, Phil lived all over the world as his Air Force father was stationed in such places as the Philippines and Japan.
Living in such remote places, Phil, at a very early age, taught himself to play the drums.
His father having retired from the Air Force, Phil found himself living in Topeka, Ks. He played in numerous local bands and in 1969 moved to New Orleans to play 3 months in the French Quarter. It was here that Phil's band played with Joe Cocker, Iron Butterfly, and was joined on stage by Jim Morrison for a soulful rendition of "Light My Fire." In the summer of 1969 Phil played the New Orleans Pop Festival with Janis Joplin, Santana, and many others. It was at this time Phil knew that this, playing in a band, was what he wanted to do for the rest of his life.
Returning to Topeka, Phil found the musical scene in Topeka not to his liking. He packed up his drums and moved to London, England. After 3 months of playing there, and an expired visa, Phil returned to Topeka and formed the band White Clover. 6 months later, Phil added guitarist/songwriter Kerry Livgren to the fold and White Clover became KANSAS.
In 1974 KANSAS released it's first album. The complete KANSAS discography/story can be found at www.kansasband.com.
In 2004 KANSAS celebrated their 30th anniversary and 30 million albums sold, around the world. "I'm happy to say that thru the majority of my career, I've had the pleasure, and honor, of playing YAMAHA drums. It's been a great relationship and I look forward to many more years. Thank you, YAMAHA!"
Phil is married and has 2 children. He has also managed KANSAS for the last 15 years.