Biography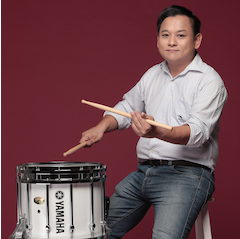 Anusorn Pornneramith has more than 20 years of experience with percussion .He also served as a member of Southwind Drum and Bugle Corps and join in DCI 2002 and currently he is designs, teaches, clinician, arrange and consults many high school marching band ,drum corps and indoor percussion group all over Thailand and International and he is judges for some of the most nationally recognized percussion programs in Thailand and and also International (such as Thailand World Music Championship , Jember Open Marching Band Competition).
He has had the opportunity to work for groups and won many awards throughout in Thailand and International level (16 - time Indoor Drumline Contest winner/6-time Drumline Battle Winner/ 10 - time in Marching Band Winner etc.).
Currently he is Ensemble Director/Program co-ordinator of Nexus Indoor Percussion (Former Max Percussion Theatre) is a 7 time Thailand Drumline Contest Winner, 1 time WGI Asian Regional Winner and also joined in WGI 2013 in Independent World Class Division. And he is band director of Satriwittaya 2 Marching and Concert Band (2-times Asian Marching Arts Competition Winner in Winds Scholastic Class) .He worked with Siamyth Drums and Bugle Corps as Percussion Caption Head (2011-2014) ,Percussion instructor Suranaree Marching and Concert Band , Udomsuksa Drumline and Jember Indoor Percussion 4-times WGI Asia Regional Winner (Indonesia ,Malaysia and Philippines .Also he is Percussion Artist Yamaha Corps. Thailand , Evans drumheads and Innovative Percussion Artist and 2019 he was inducted into the TWMC Hall of Fame.