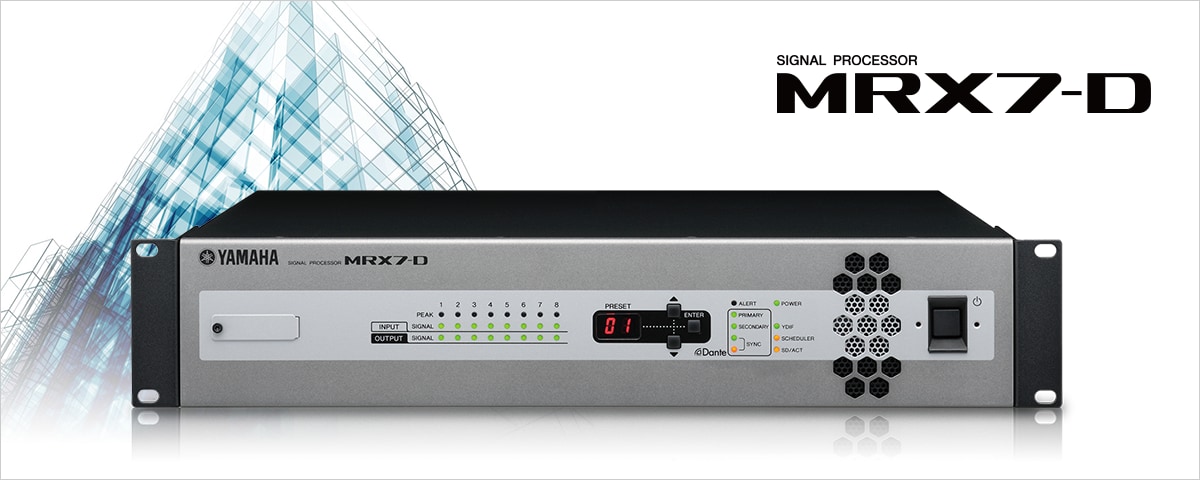 Digital Control Panel - DCP Series
All three models are available in either US or EU standardized sizes, built to meet the specifications of most regions around the globe.
DCP1V4S
Digital Control Panel
1 Volume & 4 Switch equipped Wall Mount Control panel for DME7, MTX/MRX Series and MA/PA series. Easy connection by CAT5 carrying RS485 + power. Maximum 8 DCPs can be connected to 1 DME7 and MTX/MRX Series. 1 DCP1V4S can be connected to 1 MA2030a/MA2030. Maximum 2 DCPs can be connected to 1 MA2120 or PA2120.
PGM1
Paging Station Microphone
The PGM1 is a paging station microphone that can be used with the MTX5-D or MRX7-D.
Dante network support
8 buttons can be assigned to any functions *Output destinations and input sources are specified via the MTX-MRX Editor
Up to 4 units can be connected per system
PoE powered
Dimensions: 132(W) × 56(H) × 154(D) mm (excluding mic)
Weight: 1.2 kg (including mic), 1.0 kg (excluding mic)
PGX1
Paging Station Extension
The PGX1 is a paging station extension that can be used with the PGM1.
Function expansion for the PGM1
8 buttons can be assigned to any functions *Output destinations and input sources are specified via the MTX-MRX Editor
Up to 2 units can be connected to each PGM1
Dimensions: 132(W) × 56(H) × 154(D) mm
Weight: 0.9 kg (excluding connecting bracket)
Wall-Mount Controller
6 buttons can be assigned to any functions * MTX/MRX series functions (components) are specified via the MTX-MRX Editor
Multi-language displays supported
Four user levels for access management
Up to 16 units can be connected per system
PoE powered
Back can adapter supplied
Dimensions: 149(W) x 125(H) x 18(D) mm
Weight: 0.5 kg
Recommended settings for stable operation of a Dante network (such as QoS, EEE, and IGMP Snooping) can be made easily
LAN ports equipped with PoE supply: 8(1-8)
LAN/SFP combo ports: 2(9, 10) (The LAN port and SFP slot are exclusively used)
PoE supply is compliant with IEEE 802.3at, and can supply up to 30W to all PoE ports
In-build RADIUS server for advanced security management
Input Expander/Output Expander
Exi8/ Exo8 Specifications
EXi8
EXo8
Sampling frequency
48kHz/44.1kH
Signal delay
Less than 2.5ms
Total harmonic distortion
Less than 0.05% (+4dBu , Gain:-6dB); less than 0.1% (+4dBu , Gain:+66dB)
Frequency response
20Hz to 20kHz, -1.5dB min, 0dB typ., +0.5dB max
Dynamic range
107dB (Gain:-6dB)
Equivalent input noise (EIN)
-126dBu (Gain: +66dB)
Phantom power
+48V (per channel; individually settable)
Crosstalk
-100dB (@1kHz)
Heat dissipation (per hour)
21.5 kcal max.
Power supply voltage
100V 50/60Hz
Power consumption
25 W max.
Dimensions (W x H x D)
480(W) x 44(H) x 351(D)mm, 1U
480(W) x 44(H) x 351(D)mm, 1U
Included items
Power cord, Euroblock plugs (3-pin, tabbed) x8
EXi8 Analog Input Specifications
Input terminal
GAIN
Actual load impedance
For use with nominal
Input Level
Connector
Nominal
Max. before clip
INPUT 1-8
+66dB
10kΩ
50-600Ω Mics & 600Ω Lines
-62dBu
-42dBu
Euroblock
-6dB
+10dBu
+30dBu
EXi8 Digital Input Specifications
| Terminal | Format | Level | IN/OUT | Connector |
| --- | --- | --- | --- | --- |
| YDIF In | YDIF | RS-422 | 16IN | RJ45 |
EXo8 Analog Output Specifications
Output terminal
Actual Source impedance
For use with nominal
Output Level
Connector
Nominal
Max. before clip
OUTPUT 1-8
75Ω
10kΩ Lines
+4dBu
+24dBu
Euroblock
EXo8 Digital Output Specifications
| Terminal | Format | Level | IN/OUT | Connector |
| --- | --- | --- | --- | --- |
| YDIF Out | YDIF | RS-422 | 16OUT | RJ45 |
Exi8 / Exo8 Control I/O Specifications
| Terminal | Format | Level | Connector |
| --- | --- | --- | --- |
| Network | Ethernet 100Base-TX | - | RJ-45 |