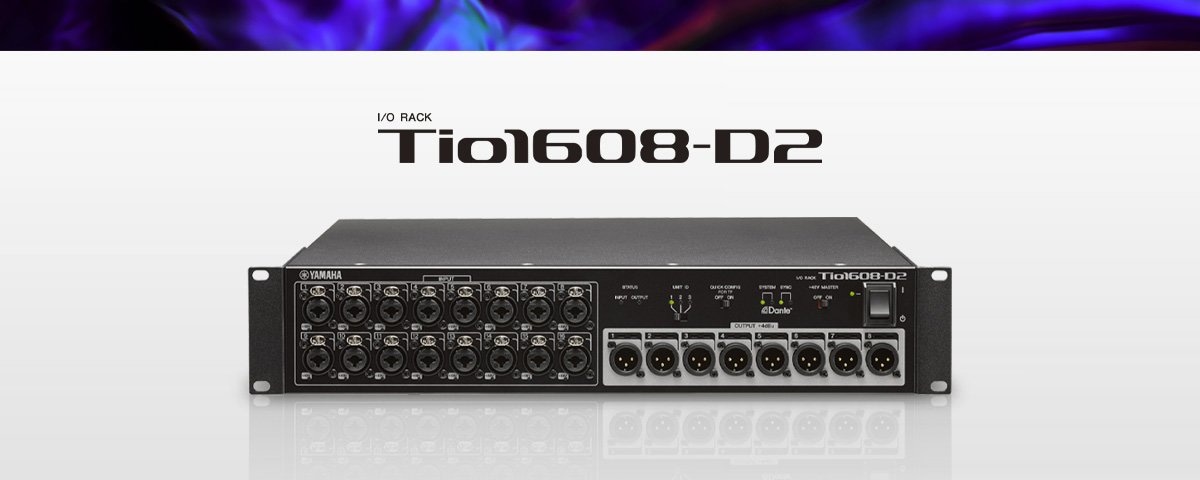 A stagebox that enhances the convenience of your console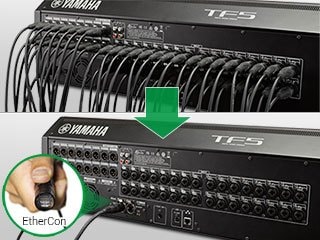 The Tio1608-D2 is the ideal stagebox for use with TF Series or DM3. The TF Series can use the optional NY64-D expansion card to connect to up to three Tio1608-D2 units, while DM3 can connect to a single unit. Connecting the console and Tio1608-D2 unites with a lightweight, durable CAT5e Ethernet cable in a daisy chain provides low-latency, high quality sound transmission without the time-consuming transport and installation required when using analog snakes.
Dante High Reliability Network Audio Protocol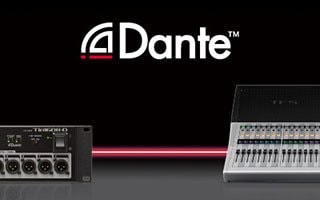 Dante has been adopted by leading manufacturers and professionals in the sound reinforcement industry for its low jitter, low latency, and high sampling accuracy. Using the Tio1608-D2 you can easily configure a high-performance Dante stagebox system with little or no IT networking knowledge. Thanks to the flexibility of the Dante network protocol, TF Series or DM3 can be connected to an extensive range of Dante-enabled equipment such as R Series I/O racks.
Fast, easy configuration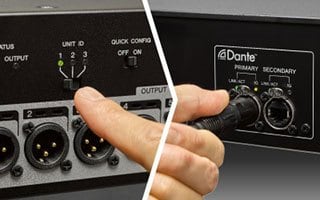 TF Series and DM3 are equipped with functions for automatic configuration of network settings and audio patching connections, making system configuration easy. After configuring the unit ID and QUICK CONFIG switches from the front panel of the Tio Rack, using the QUICK CONFIG function of the TF Series or the AUTO CONFIG function of the DM3 allows you to complete setup simply by connecting the console and Tio Rack with an Ethernet cable. Turn on the power and you're ready to go!
*Set the QUICK CONFIG switch to ON when using Quick CONFIG on the TF Series, and to OFF when using AUTO CONFIG on the DM3.
Simple and Flexible Input Selection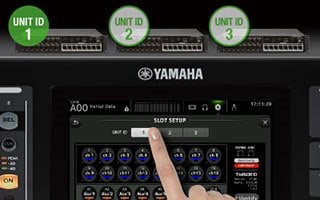 Once the basic configuration is completed you can easily assign inputs to best suit your system setup. All inputs can be assigned uniformly to the Tio Rack in an instant from the TF Series INPUT screen menu or the PATCH screen on a DM3. Users can also change each input to receive signal from multiple locations, allowing effective use of all inputs.
Recallable D-PRE preamplifiers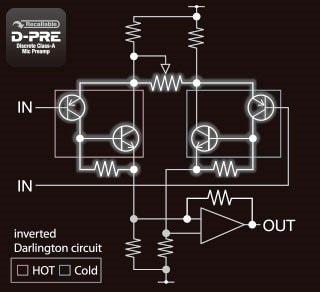 The Tio1608-D2 inherits the natural, musical sensibility that we pursued in the development of the TF Series. Mechanical construction, circuit board layout, power supply, grounding, and parts selection have all been executed with meticulous attention to detail and quality, combined with exhaustive performance and listening tests at each stage of development. The Tio1608-D2 features the same recallable D-PRE microphone preamplifiers as the TF Series to provide a consistent, natural, musical sound throughout the entire system.
System example with DM3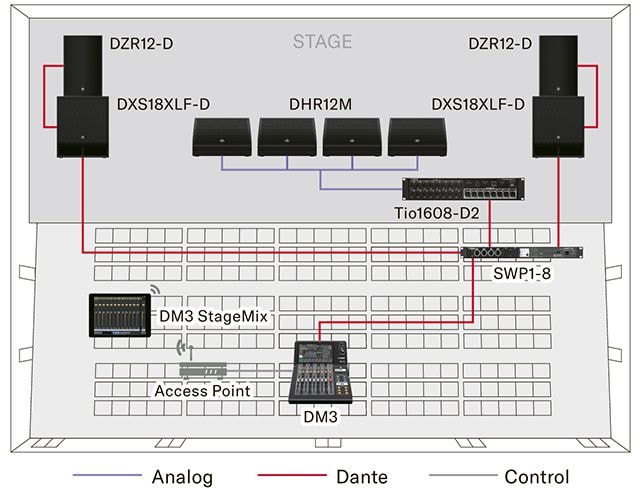 Tio1608-D2 allows you to easily connect a DM3 digital mixer system. System setup uses a Plug In & Play method. Simply connect Cat5e cable, select the device IDs and the system is ready. Remote HA control is available via Cat5e. StageMix App allows wireless remote control of the console from the arena, the stage or the audience etc.