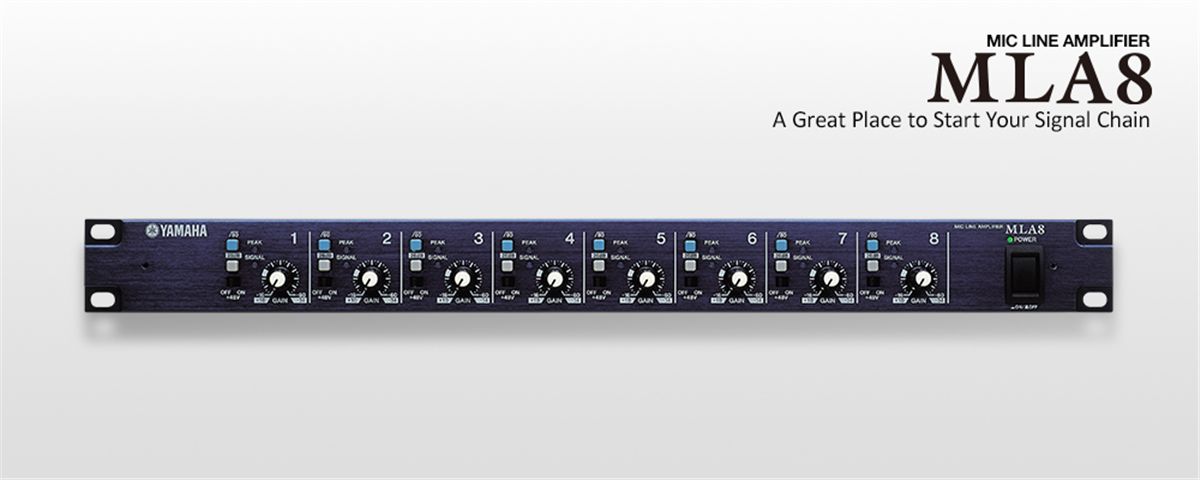 An Eight-Channel Head Amplifier that Inherits Acclaimed DM2000 Head-Amp Technology
Having earned the acclaim of professional engineers at live-sound venues, music production studios and other areas, the head-amp technology from Yamaha's top-of-the-line DM2000 Digital Production Console was selected for use in the MLA8. This head amp design achieves stunning audio quality, reproducing the original sound with breathtaking clarity.
Practical Features in a Compact 1U Package
In a space-saving 1U design, the MLA8 front panel offers a 26 dB pad, adjustable 44 dB gain trim, an 80 Hz high-pass filter, and a phantom-power switch on each channel. Used in conjunction with Yamaha digital mixers, DME64N/24N digital mixing engines, or other state-of-the-art digital audio gear, the MLA8 offers simple, straightforward signal control that can provide invaluable complementary functionality for a wide range of applications.
Convenient Color-coded Control Interface
The control colors for Yamaha mixers are based on a set of common rules. Accordingly, the MLA8 uses green for signal indicators and high-pass filters, red for peak indicators, and gray for pads. In systems where the MLA8 will be combined with other Yamaha products, this provides an intuitive, efficient working environment.
Euroblock and D-sub 25-pin Connectors
XLR connectors are provided for the audio input, while output connections can be made via either a D-sub 25-pin connector or Euroblock connectors. The latter can be an advantage in installations. The D-sub 25-pin connector is compatible with the MY8-AD96 8-channel Mini-YGDAI A/D card, providing convenient connectivity with Yamaha digital mixers.