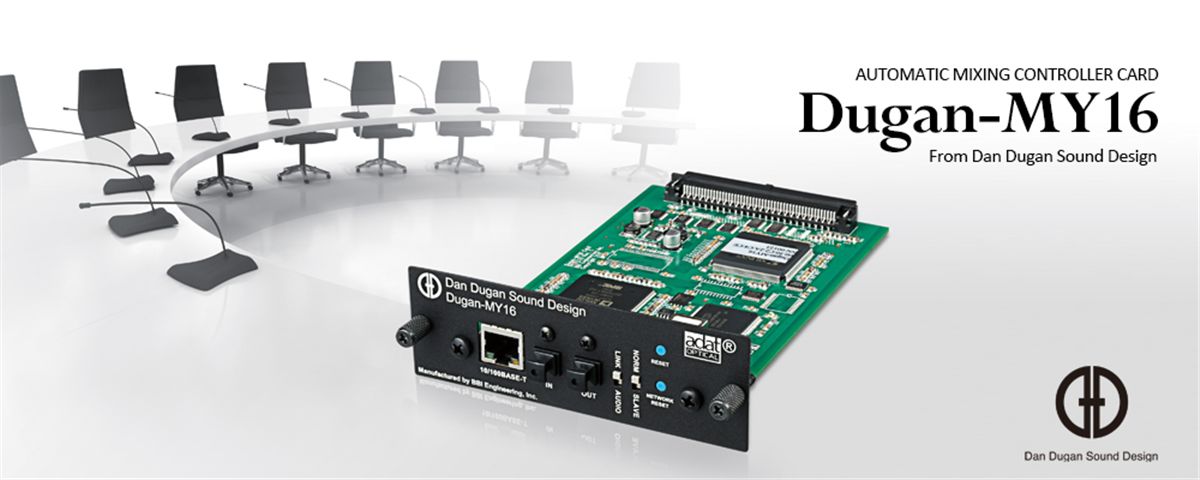 DUGAN-MY16
Automatic Mixing Controller Card
Professional Automation for Multi-microphone Mixing
The Dugan-MY16 is an automatic mixing card for Yamaha digital mixers that employs advanced technology from Dan Dugan Sound Design. When multiple microphone inputs need to be mixed without a script or pre-planned gain changes, the Dugan-MY16 can automatically optimize gain distribution over multiple faders so that the engineer is free to concentrate on the quality of the mix, rather than being chained to the faders. It's almost like having a talented assistant engineer keeping track of fader levels, lightening the overall workload and maximizing efficiency.
Dan Dugan Sound Design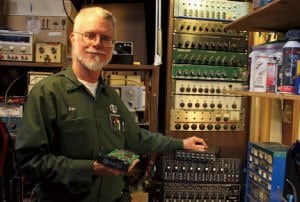 Dan Dugan Sound Design specializes in automatic mixing technology, with automatic mixer inventor Mr. Dan Dugan at the helm. Initially licensed by the Altec company for their automatic mixers, the unique algorithm of the Dugan Speech System™ is now being made available inhigh-performance automatic mixing systems under the Dan Dugan Sound Design brand. Dan Dugan products have become standards in broadcast studios, conferences, and houses of worship in the United States, prized for their outstanding performance and reliability.
DUGAN-MY16
Automatic Mixing Controller Card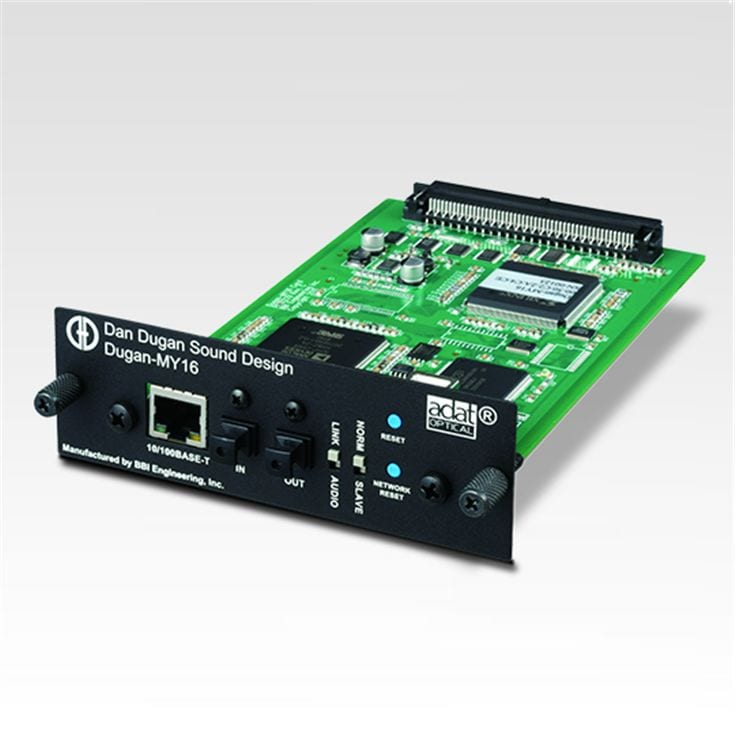 Automatic Mixing Controller Card
24bit resolution, 16-in/16-out automatic mixing (8-in/8-out at 96 kHz)
2x Optical connectors, 1x RJ-45 connector
Up to 8 cards can be used simultaneously to handle up to 128 channels at 48 kHz, or 64 channels at 96 kHz
Automatic detection of active mics with automatic control of individual channel and overall gain
No speech cutoff due to late fader activation, for smooth, uninterrupted sound
Effective background noise and feedback suppression without the need for noise-gate type threshold level settings
Easy setup: simply insert on the appropriate mixer input channels and raise the faders
Channels can be grouped to make up to three independent automatic mixers
Dugan Control Panel software application provides remote control and level monitoring capability
Can also function as an 8-channel auto-mixer + 8-channel ADAT interface
The colors and finishes shown may vary from those on the actual products.