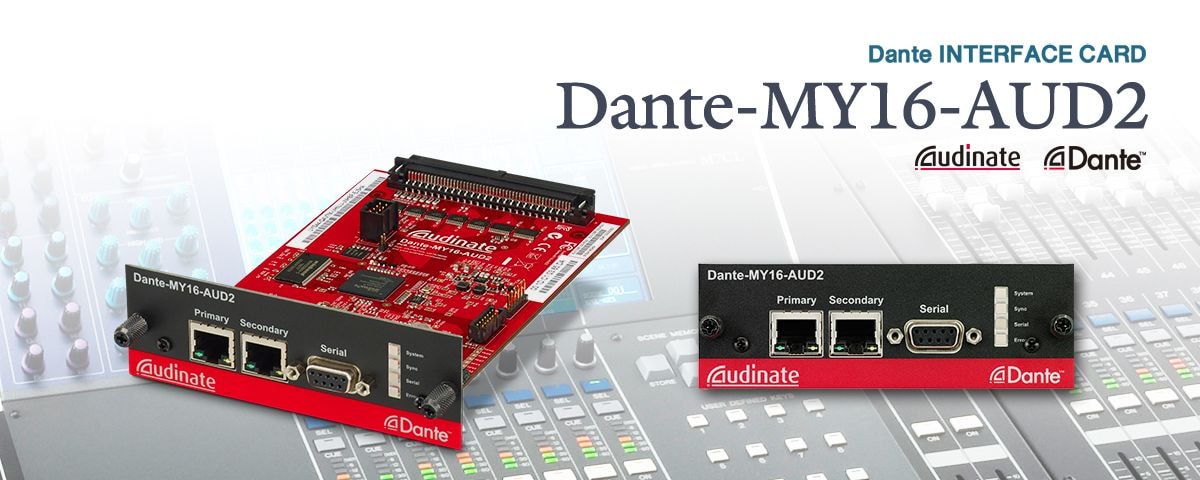 DANTE-MY16-AUD2
16-Channel Dante Network I/O Card
Dante Controller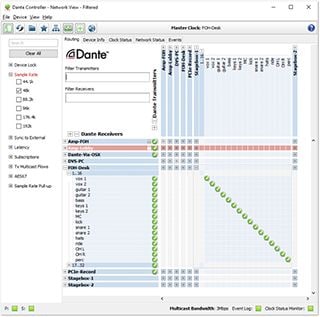 Dante Controller
- Facilitates setup of Dante networks and management of audio inputs and outputs.
- Windows and Mac platforms supported.
- Simultaneous monitoring and control from multiple PCs.
- No need to set IP addresses.
- Individual channel patching.
Dante Virtual Soundcard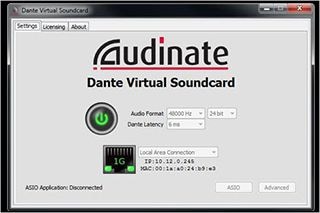 Dante Virtual Soundcard
Allows direct audio input and output via a personal computer's Ethernet port.
- Supports ASIO (Windows) and Core Audio (Mac).
- 48/96 kHz sample rates and 16/24/32 bit depth supported.
- Can be customized for 2 ~ 64 in/out channels according to available machine power and the application.
User Guides
Manuals and related documents can be downloaded from the Audinate website.
Live Recording Guide Via Dante
These guides show how quick and easy it is to achieve a high quality, live multi-track recording using a Yamaha digital mixer and Steinberg Cubase/Nuendo.
Dante-MY16-AUD & R Series HA Remote Control Guide
This guide describes the setup of a system where you remotely control the head amplifier of an I/O rack connected with the Dante audio network, via the Dante-MY16-AUD card inserted in a Yamaha digital mixer.
| Name | English | English |
| --- | --- | --- |
| Dante Controller V3.5.x User Guide | — | [2.1MB] |
| Dante Controller V4.1.0.x User Guide | — | [2.4MB] |
| Dante-MY16-AUD & R Series HA Remote Control Guide | — | [938KB] |
| Dante-MY16-AUD2 Getting Started Guide V1.1_67519 | — | [2.5MB] |
| How to get a DVS license | — | [717KB] |
| Live Recording Guide via Dante [M7CL or PM5D] | — | [3.4MB] |
| Name | English | English |
| --- | --- | --- |
| Dante Controller V3.5.0 Release Notes | — | [176KB] |
| Dante Controller V3.5.2.1 Release Notes | — | [176KB] |
| Dante Controller V3.5.3.1 for Win Release Notes | — | [208KB] |
| Dante Controller V4.1.0.x Release Notes | — | [354KB] |
| Dante Firmware Update Manager User Guide v2.7 [English] | — | [503KB] |
| Data Sheet (Dante-MY16-AUD2) | — | [325KB] |
| Data Sheet (Mini-YGDAI Cards) | — | [13.2MB] |