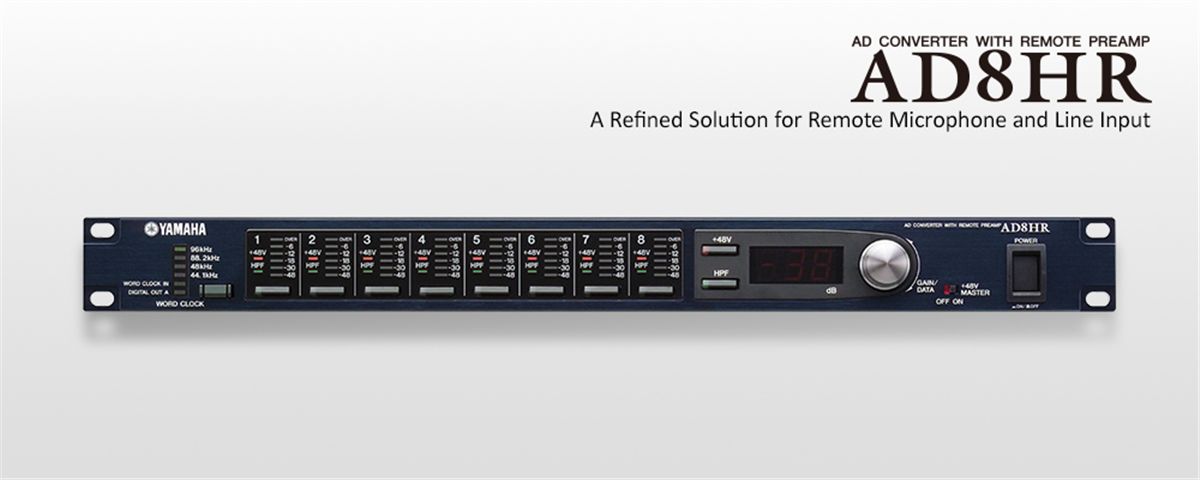 AD8HR
AD Converter with Remote Preamp
Stunning Sound Quality with Sampling Rates Up To 96 kHz
Head amplifiers play a vital role in determining the final sound quality of any analog-to-digital converter, and that's why we chose the circuitry used in our state-of-the-art PM5000 analog mixing console for the AD8HR's eight microphone preamplifiers. Only the finest parts available have been selected and implemented to achieve immaculate reproduction backed up by 96-kHz digital processing. Sound quality depends on more than just specifications, so rigorous and impartial listening tests were carried out with the participation of leading professionals in order to perfect the design and ensure that only the input signal, with all of its most delicate nuances intact, will appear at the output.
Remote Control Facilitates Integration with Digital Mixers
The gain of the AD8HR's microphone preamplifiers can be remotely controlled in steps of 1 dB from digital mixing consoles such as the DM2000 and DM1000*. Each channel also includes a high-pass filter with remotely controllable cutoff frequency, and a phantom power supply that can be switched on or off in the same way. This makes the AD8HR an ideal choice for use as a remote stage box. In addition to the many practical advantages that this offers, digital connection between the AD8HR and digital mixing console via an AES/EBU cable reduces the need for analog wiring to an absolute minimum, keeping sound quality deterioration in check and simplifying wiring layout. Up to 255 AD8HRs can be daisy-chained for massive input capacity. * The DM2000 and DM1000 must be upgraded to version 2 in order to make full use of these functions. Version 1.xx of the DM2000 or DM1000 software provides support for gain control in 6 dB steps.
Eight XLR Connectors and D-Sub AES/EBU Terminals in a Compact 1U Design
Packaged in a space-saving 1U unit, the AD8HR boasts a full range of analog and digital I/O connections. And with integrated high-pass filters and phantom power supplies this AD converter features all the functionality required for effective, flexible live mixing. The front panel and controls have been designed for speedy operation and instant identification that can be critical in live situations. Each of the rear panel's eight inputs features an XLR connector, and a pair of D-sub 25-pin AES/EBU digital output terminals are standard. BNC terminals provide word clock input and output. The AD8HR covers every base in terms of digital connectivity. Input signals can be separated into two parallel output lines using the two D-sub 25-pin AES/EBU digital output terminals, allowing one to be used for FOH and the other for monitoring or recording. In addition, remote control can be implemented via RS422 or switchable PC/RS422 nine-pin terminals.