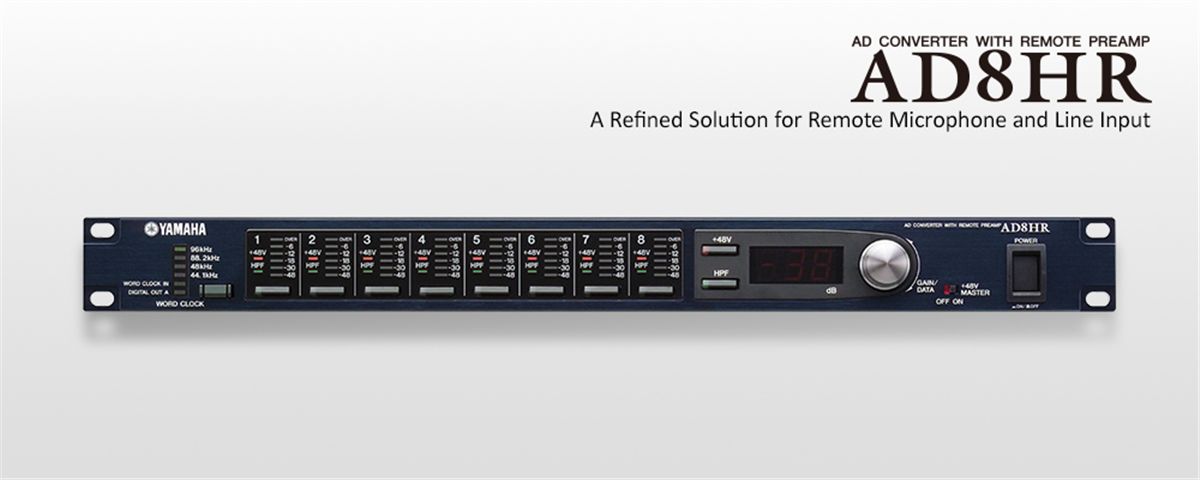 AD8HR
AD Converter with Remote Preamp
Remotely Controllable 8-channel 24-bit Head Amp and AD Converter
With the AD8HR Yamaha introduces a new generation of 8-channel remote microphone preamp/AD converters combining unparalleled sound quality with a host of innovative functions in a compact 1U rack size unit.The AD8HR can be used with Yamaha digital consoles such as the PM5D, DM2000 and DM1000, providing high-quality remote microphone preamps with analog circuitry derived from the extraordinary PM5000 analog console. The AD8HRprovides digital audio output via high-performance 24-bit/96-kHz AD converters, and simple digital connection allows gain, filter, and phantom power control right from the console!
AD8HR
AD Converter with Remote Preamp
This remotely controllable 8-channel microphone preamp and 24-bit/96-kHz AD converter employs microphone preamp technology inherited from the PM5000.
Microphone preamplifier technology inherited from the PM5000 analog live sound console for unsurpassed sound quality.
Microphone preamplifier gain can be remotely controlled in steps of 1 dB from compatible Yamaha digital mixing consoles.
High-pass filter with remotely controllable cutoff frequency on each channel.
Remotely switchable phantom power supply.
Up to 255 AD8HRs can be daisy-chained for massive input capacity.
AES/EBU digital connection to digital mixing console minimizes the need for analog cabling.
Eight XLR connectors and D-Sub AES/EBU terminals in a compact 1U design.
Dual output connectors enable 2 x 8-channel digital audio output in the AES/EBU format.
Remote control can be implemented via RS422 or switchable PC/RS422 nine-pin terminals.
The colors and finishes shown may vary from those on the actual products.