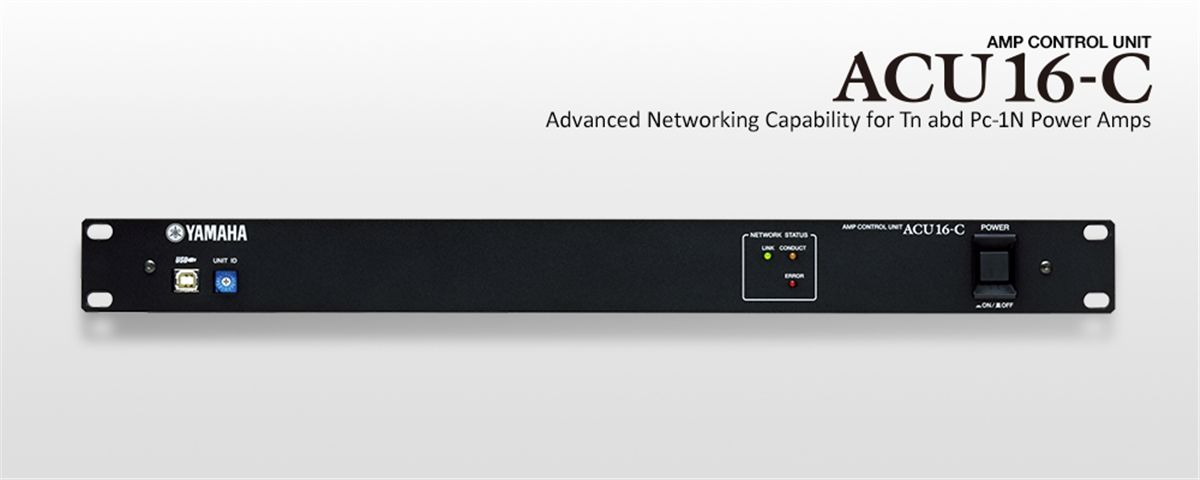 Control and Monitor up to Thirty-Two Tn and PC-1N Series Amplifiers
The ACU16-C provides comprehensive control of up to thirty-two Tn and PC-1N series amplifiers. With a computer and the included NetworkAmp Manager software, you can control and monitor in/out levels, limiting, protection circuits, heat sink temperature, power on/standby status, attenuation, phase, muting … and even speaker failure through the speaker impedance monitoring.
Automatic Troubleshooting and Logging
NetworkAmp Manager also serves as a comprehensive troubleshooting aid, warning you of problems and recording them automatically to a log file. The software monitors conditions such as protection circuit activation, heat sink temperature, and any increase in impedance over a previously set value, immediately alerting you to and allowing you to pinpoint any problems or malfunctions.
Up to 16 Channels of D/A Conversion with Cobranet™ Compatibility
The ACU16-C is fully compatible with CobraNet™ technology, allowing you to receive four bundles* of digital audio and assign the received audio to the 16 analog outputs. Thanks to the high-performance 24-bit D/A converters - the same type that is used in the DM2000 and 02R96 digital consoles - uncompromised sound quality with 110dB dynamic range is maintained right up to the Tn and PC-1N units. This sophisticated device can also send and receive control data, so you can use just one ACU16-C to network up to thirty-two Tn and PC-1N series power amps in extended systems. What's more, up to sixteen ACU16-C devices can be connected via the high-speed CobraNet™ connections. * One bundle contains 8 channels of 20-bit audio, or 7 channels of 24-bit audio (at 48 kHz).
Duplicate Connections for Exceptional Reliability
The ACU16-C is fitted with redundant primary and secondary CobraNet™ ports. Simply connect Ethernet cables to both ports, and you have a fail-safe, secure amplification system.