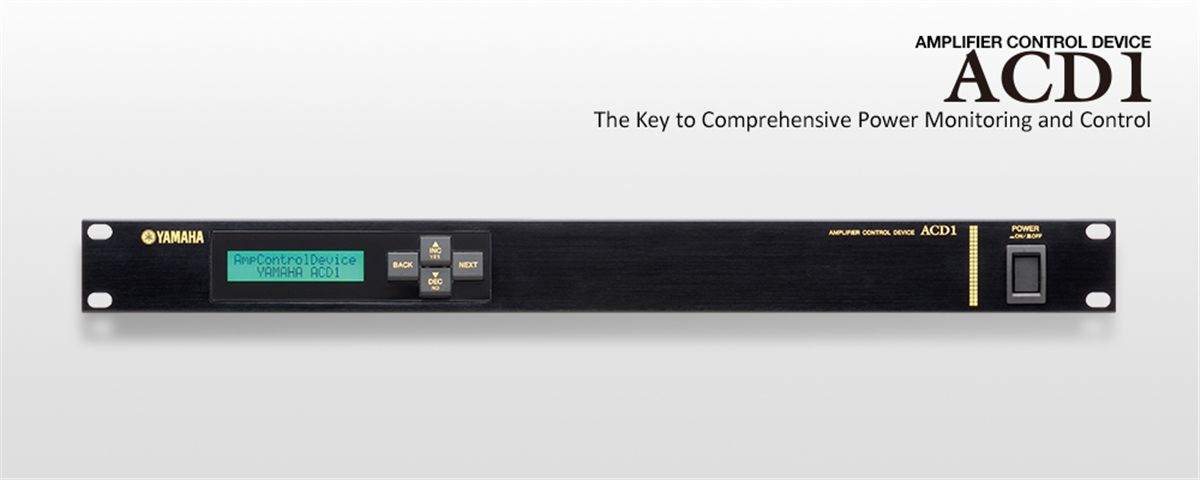 Amplifier Control
The ACD1 Amplifier Control Device provides a convenient, reliable means to connect a computer running Yamaha's advanced amplifier control and monitoring software to Yamaha Tn, PC1N, XP, XM and XH series power amplifiers. Up to 32 daisy-chained Tn and/or PC1N series amplifiers can be connected to the ACD1 DATA PORT connector via standard Ethernet cables, while as many as 8 XP, XM, and/or XH series amplifiers can be connected to individual MONITOR/REMOTE connectors via appropriate cables. That's a total of 40 power amplifiers via a single ACD1 unit. Yamaha's TXn power amplifiers connect directly to the same software network via Ethernet, without the need for the ACD1, so you can simultaneously connect TXn amps and other Yamaha amplifiers connected via an ACD1 unit to a single computer by using a standard high-speed Ethernet switch.
Amp Control
Tn/PC-1N
XP, XH, XM
Power
On/Standby
Yes
Yes
Attenuate
Yes
No
Mute
Yes
Yes
Input Polarity
Yes
No
Monitor
Tn/PC-1N
XP, XH, XM
Input Level
Yes
No
Output Level
Yes
Yes
Output Clip
Yes
No
Load
Impedance
Yes
No
Protection
Yes
Yes
Amp Mode
Yes
No
Heatsink Temp
Yes
No
Amp Editor - Intuitive, plug and play amp management software -

Amp Editor is a dedicated software application for Yamaha amplifiers that makes amplifier management easy. Remotely control and monitor amplifiers simply by connecting your TXn amplifiers or ACD1 to an Ethernet port on a computer via a standard high-speed Ethernet switch. Connection to the Amp Editor network requires no special drivers so that your system is up and running in no time. All TXn amplifier functions and DSP parameters can be controlled using Amp Editor.