With the new wired Tabletop Array Microphone "RM-TT", users have more flexibility to customize ADECIA to their use case. Yamaha's powerful sound technologies offers the easy setup and auto configuration features available through the Remote Conference Processor "RM-CR", providing comfortable and effortless remote conferencing experience.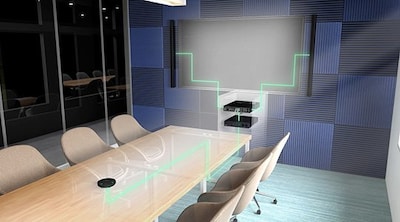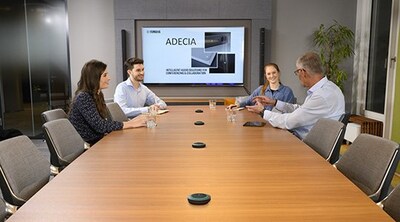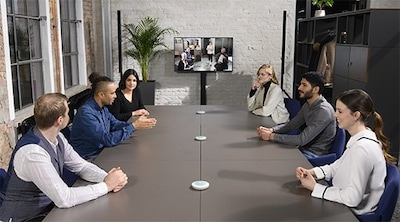 Optimal Voice Capture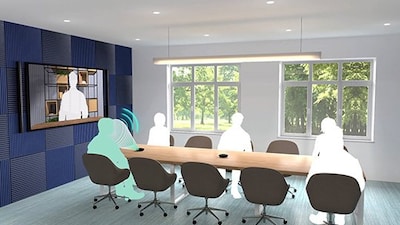 ADECIA Tabletop Solution includes Yamaha's well-known audio technologies like Auto Voice Tracking that tracks participant speech for optimal capture.
Flexible Usage
The ease of microphone install and advanced pickup allows flexibility for social distancing and layout changes thoughout the space. Six microphone direction options can customize the solution to your use case and participant count: omnidirectional, toroidal, cardioid, super-cardioid, hyper-cardioid, bidirectional.
Flexible Layout
ADECIA Tabletop Solution is compact, flexible and easy to connect to achieve your workspace goals.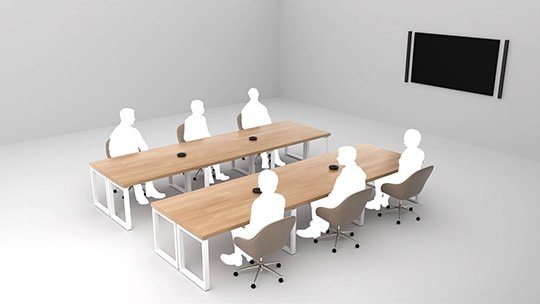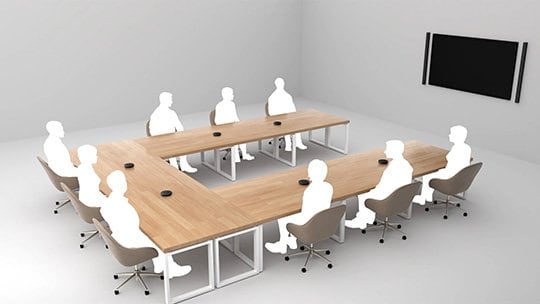 Complete Coverage from Sound Input to Output
ADECIA Tabletop Solution helps organizations overcome challenges with implementation, configuration and room acoustics by providing all components required for a successful installation. The new tabletop array microphone (RM-TT), core processor (RM-CR), a Dante-optimized network switch and line-array POE+ powered speakers provide a complete solution designed to work effortlessly together.
Best Audio in Shortest Time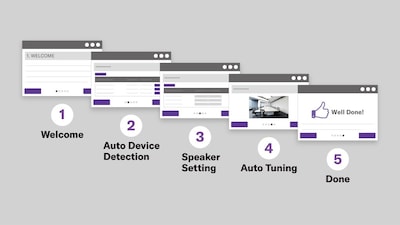 System automatically detects all components and configures them to be optimized for the room environment, taking into consideration location of speakers and microphones, reverberation characteristics of the room, and echo behavior. Setting up a room can be as easy as following the configurator through four steps of configuration.
Reduce Time, Spend and Complexities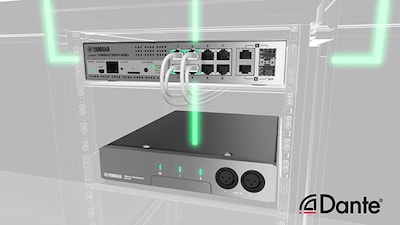 Audio/control signals can be transmitted with one network cable using network audio standard, "Dante", solving troublesome wiring and installation problems.
Integration into All Audio Environments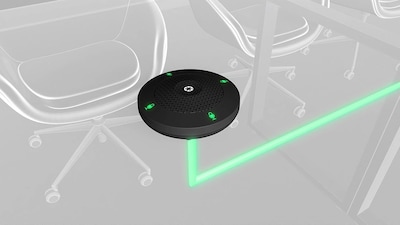 Equipped with various interfaces such as USB, Bluetooth®, SIP, and audio input/output terminals, the system allows the flexibility to use for both web conference system and telephone line conferences. Supporting Windows, macOS, iOS and Android, as well as compliance with market leading UC applications, ADECIA Tabletop Solution gives you the flexibility to customize the solution to your specific needs.
Certified by Strategic Partners
Sound processing for high quality remote conferencing experience
Auto Voice Tracking
The RM-TT is equipped with auto voice tracking (automatic speaker tracking function) in each microphone, allowing for flexible room layout and participant positioning. When the speaker is among multiple RM-TTs, RM-CR automatically selects the closest microphone to the speaker to pick up sound, enabling a highly clear voice to the far end.
Unique Yamaha Processing Technologies
Yamaha's unique HVAD technology distinguishes the human voice vs. noise to block unneeded sound from being sent to the far-end.
While other echo canceller's measure the room and set levels once, Yamaha's adaptive echo cancellation is constantly scanning the environment for changes to deliver an uninterrupted, echo-free audio stream.
This sound technology automatically adjusts voice levels to deliver a consistent, optimal volume level to the far-end, no matter if some voices are louder vs. weaker or closer vs. further away from the microphone. This automatic feature enables everyone to hear or be heard at an ideal level.
When constant noise like a projector fan or air conditioner system enters the communication space, Yamaha's Noise Reduction technology removes these components to clearly convey the presenter's audio to the far-end.
Reverberation from an acoustically-poor environment can make it difficult to distinguish a clear voice signal. Dereverberation suppresses these reverb components to deliver a highly-intelligible output.