Yamaha Releases the AG08 Live Streaming Mixer
Yamaha Releases the AG08 Live Streaming Mixer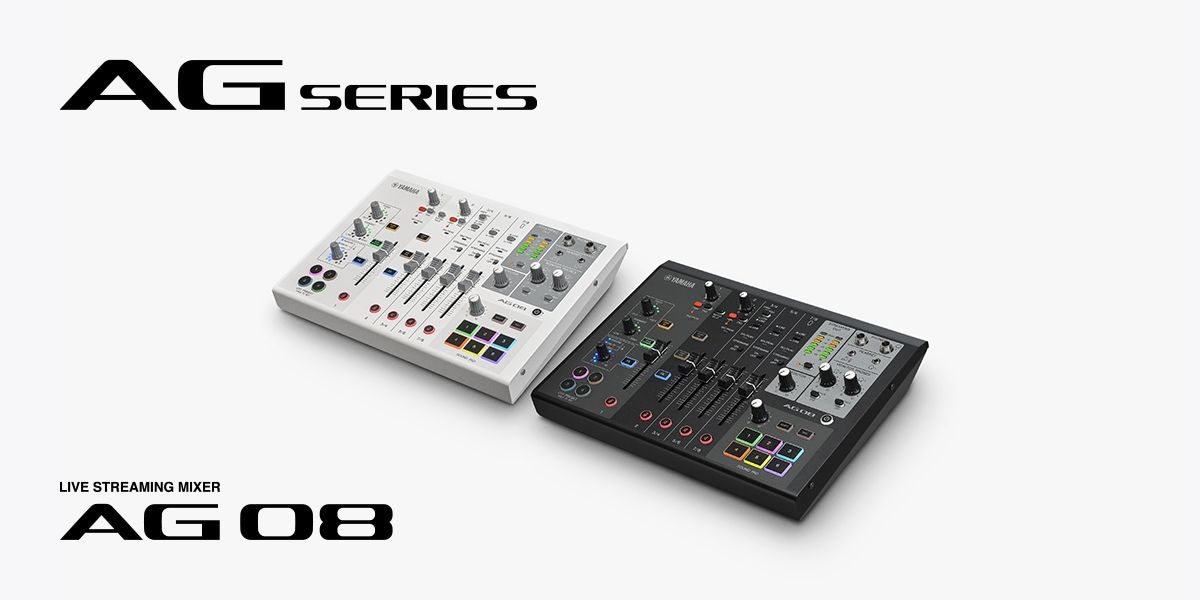 Jan 26, 2023, Shizuoka, Japan
The landscape of live streaming has grown dramatically in recent years, with podcasting and live streaming platforms like YouTube Live and Twitch offering audiences and streamers alike an array of enjoyable and entertaining experiences. As this medium and the technologies that support it continue to evolve, so too do the possibilities for even greater experiences and deeper connections between streamers and their audiences. In April 2022, Yamaha released the second generation AG06MK2 and AG03MK2 series of powerful mixer-type streaming consoles, along with the new AG01 USB microphone-type streaming mixer, allowing users with little, or even no engineering experience to realize high-spec, professional level streaming via flexible IO, a simple intuitive interface, and multi-channel USB routing options for connected USB sounds and audio.
Yamaha is now very pleased to announce the release of the AG08 all-in-one 8 channels live streaming station— our new flagship streaming console which builds on the essential features of our recent AG second-generation models with the addition of new functions to make user's streams more professional.
A first for the AG series, the AG08 adds six sound pads allowing you to input your favorite sound effects and instantly incorporate them into your live streaming. A new voice changer allows users to transform their voice on Channel 1 to a different gender, a robot voice or more in real time. The AG08 features five DSP effects, including a newly installed voice changer and delay effects, that can be set independent of the other channel via AG08 Controller's parameter settings. Additionally, Channel 1 has four effect preset buttons that you can change on the fly adding versatile control, especially for voice-acting and live performance applications. The AG08 also adds a priority ducker to ensure Channels 1 and 2 are always heard clearly by attenuating all other signals relative to the input from Channels 1 and 2, while the new Maximizer function will give user's entire streaming audio mix an added edge with an extra boost of gain. There are also innovative advancements in audio routing and usability. The AG08 allows the signal from multiple apps on a USB-connected PC, or analog line inputs to be individually assigned to three faders for Channel 3/4, 5/6, or 7/8 of the AG08. This allows users to physically control the volume in real time during live streams for applications with more complex productions or setups.
Like the AG06MK2, the AG08 has two phantom power mic inputs for condenser microphones users can easily stream with ASMR microphones by setting the pan to L-R and the effect to the same between the two inputs on AG08 Controller, along with a mute button and 4-pole mini I/O for Android devices. In addition, there are two independent headphone monitor channels for applications where two people are broadcasting a conversation or where there is someone other than the performers managing the audio. The new console also comes equipped with a new PA-150B power adapter for more stable operation and to accommodate a wider range of application setups along with the onboard USB1.5A bus power supplier.
"By combining all of these diverse and practical features together in an all-in-one console, the AG08 makes it faster, easier, and more enjoyable than ever before to have a fully functioning professional live streaming station capable of covering an even wider range of applications including vocal performances, reaction videos, voice acting, interviews, musical ensemble performances, and any other offline audio contents creation," says Thomas Hemery, Yamaha Pro Audio Division Marketing & Sales General Manager. "To adapt to this rapid expansion of the live streaming market, we developed the AG08 as a response to our customer's feedback regarding our previous, and even most recent MK2 live streaming products with the hope that more users will be able to engage in this personal live streaming culture and community as it continues to evolve and enrich our lives."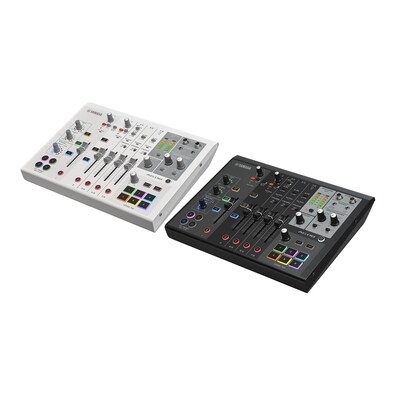 An 8-channel live streaming mixer featuring two phantom power inputs for condenser mics, an integrated USB audio interface, voice changer and sampler.

Other Colors Available
Yamaha Releases the AG08 Live Streaming Mixer