New Jersey Township Chooses Yamaha CIS System
New Jersey Township Chooses Yamaha CIS System
Courthouse Chooses Yamaha CIS
The Township of Evesham, New Jersey courthouse is a typical municipal courtroom. It doubles as a non-jury courtroom, as well as a council meeting room and a township meeting room. Between the court and various town meetings, there can be up to 16 microphones on at any given time. The microphones need to be fed to the live speakers and for multi-track recording purposes.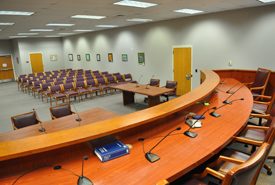 ACIR Professional of Mays Landing, New Jersey was chosen to replace the live portion of the Township's audio system in the hope of obtaining a cleaner, clearer sound. "In addition to obtaining a better quality sound, the customer still wanted to be able to send audio via multi-track to record," states Vice President of Sales, Bobby Harper. "Having just demoed the new Yamaha CIS (Commercial Installation Solutions) Series products, the design became obvious."
ACIR Pro chose a Yamaha MTX5-D processor with the EiX8-8 channel extender in order to accommodate the 16 inputs required. The processor also handles the routing of multi-track and a 4-zone (mix minus) to the Yamaha XMV4280-D Dante-enabled 4-channel amplifier. Yamaha VXC8W speakers were chosen for their clarity and ease of installation. The speakers are zoned for maximum gain before feedback. With assistance from a Dugan MY-16 Auto Mixer card installed in the MTX5-D and the extensive parametric EQ capabilities on each zone output.
Harper said the volume and clarity before feedback was staggering for both courtroom and meeting pre-sets. The presets were stored in the Yamaha MTX5-D library. Recall is available from an in-wall mounted Yamaha DCP1V4S-US controller that the clerk has at his/her fingertips. "Overall Yamaha was selected because of its new all-in-one CIS solution."
ACIR also installed a Yamaha HS Studio Monitor along with 16 Shure MX418 D/C microphones.
For more information on ACIR Professional, visit
New Jersey Township Chooses Yamaha CIS System