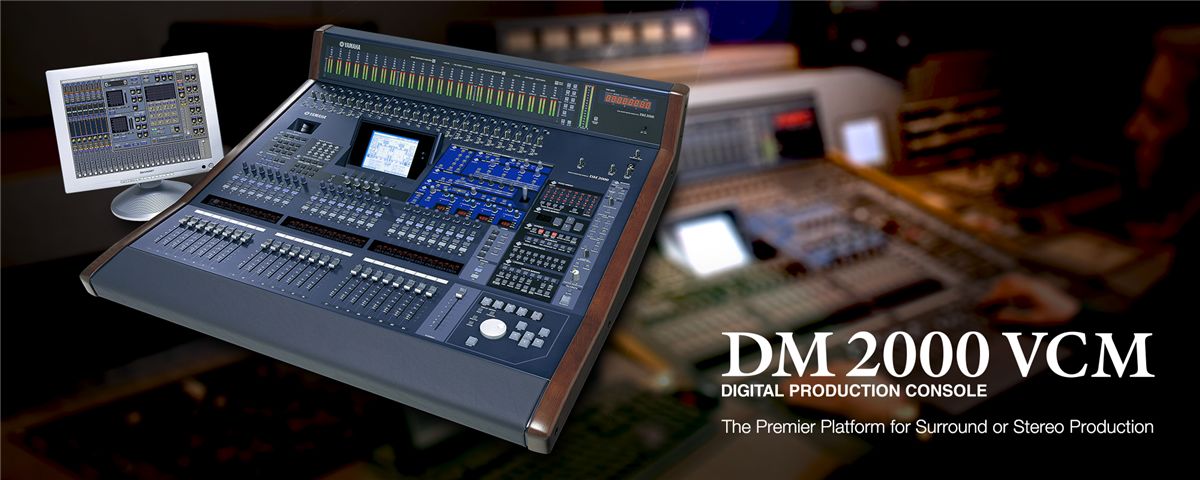 DM2000VCM
Digital Production Console
96 Inputs and 22 Buses For Glorious Surround Sound
Combining a leading-edge design philosophy with the latest in digital technology, the DM2000VCM is the world's first sound / music production digital console to receive approval under the globally-recognized THX pm3 surround standard. Multi-channel digital broadcast, Internet delivery of television and music, the integration of next-generation "Blu-Ray Disc" media - with each passing year the market demand for surround-sound media reaches new heights, requiring ever more quality and speed from broadcast and production facilities.
Everything we know about digital audio has been put into developing the DM2000VCM. It combines a myriad of surround mixing and monitoring functions together with a maximum of 96 inputs and 22 mixing buses, transparent sound quality thanks to a superb head amp, 24-bit AD/DA, and 96 kHz sampling, as well as superior integration with DAW (Digital Audio Workstation) packages such as NUENDO. This result is a console that is able to handle the demands of today's production and broadcast environments with ease.
The DM2000VCM also brings to the table VCM plug-ins like EQ, compressors, tape saturation, and guitar effectors now standard on Yamaha's digital consoles, along with the outstanding REV-X reverb algorithm newly introduced in the SPX2000. Add to this the smooth, realistic sound of iSSP surround field technology, and you have a console that provides simply breathtaking performance.
Put simply, our flagship DM2000VCM production console takes sound production to new heights.
The colors and finishes shown may vary from those on the actual products.