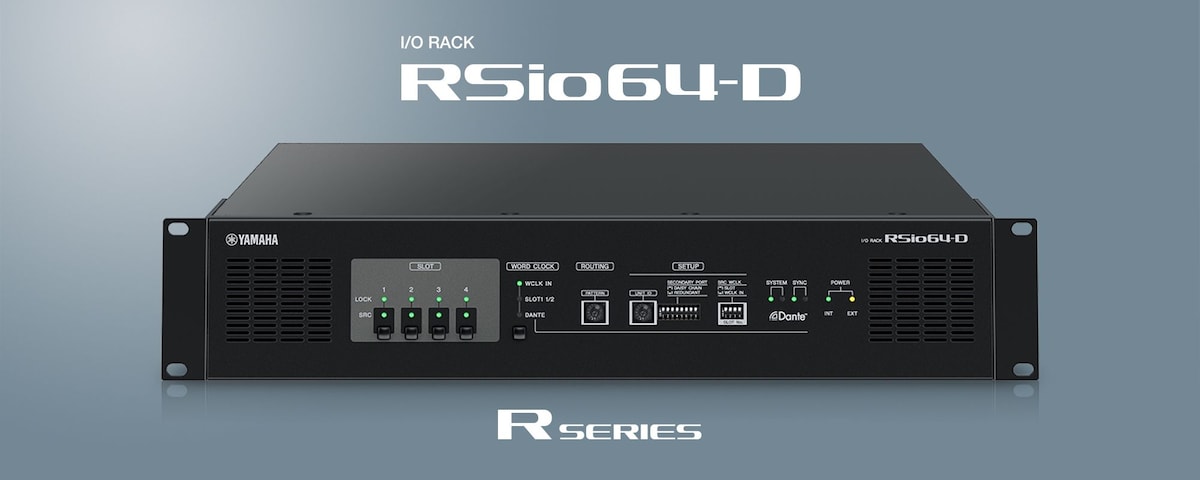 The Extensive Mini-YGDAI Card Lineup on a Dante Network
The RSio64-D, the latest addition to the R series, is an audio interface that can convert between Dante and Mini-YGDAI formats for up to 64 inputs and 64 outputs. It provides versatile routing capability as well. Four Mini-YGDAI card slots allow cards for a wide variety of input/output formats as well as processing functions to be connected to a Dante network for live sound, broadcast, recording, post production, and other applications. The RSio64-D also supports remote setup from CL and QL series consoles.
Compatibility cards
| | |
| --- | --- |
| Processing Card | MY8-LAKE, DUGAN-MY16, WSG-Y16 V2 |
| Analog Cards | MY8-ADDA96, MY8-AD96, MY8-AD24, MY4-AD, MY8-DA96, MY4-DA |
| Digital Cards | MY16-AT, MY8-AT, MY16-AE, MY8-AE96S, MY8-AE96, MY8-AE, MY8-AEB, MY16-MD64, MY8-SDI-ED, MY8-SDI-D, MY16-TD, MY8-TD |
| Network Cards | AVIOM16/O-Y1, AVIOM6416Y2, MY16-CII, DANTE-MY16-AUD2, MY16-ES64, AVY16-ES100, MY16-EX, YG2, YS2, RN.341.MY, RN.141.MY, Pivitec e16i/o-MY |
The colors and finishes shown may vary from those on the actual products.