Venova YVS-120/YVS-140 Casual Wind Instruments, YH-L700A Headphones Chosen for Red Dot: Best of the Best Award
Venova YVS-120/YVS-140 Casual Wind Instruments, YH-L700A Headphones Chosen for Red Dot: Best of the Best Award
Yamaha Corporation announces that two of its designs were selected to receive the Red Dot Award: Product Design 2022: namely, the Venova™ YVS-120/YVS-140 casual wind instruments and the YH-L700A wireless headphones. Both products were also chosen to receive the most prestigious Red Dot: Best of the Best award, which is reserved for particularly outstanding designs.
The Red Dot Design Award is a German design award hosted by the Design Zentrum Nordrhein Westfalen that is highly respected around the world and comprises three categories: Product Design, Brands & Communication Design, and Design Concept. This year, more than 7,900 items were submitted from approximately 60 countries and regions around the world for the Red Dot Award: Product Design, and less than 1.5% of these were selected for the Red Dot: Best of the Best award.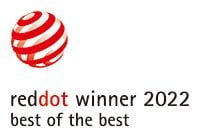 These two wins bring Yamaha's total number of Red Dot Design Awards to 29 since it began submitting entries in 1997. Past recipients of the Red Dot: Best of the Best award include the SB-7 SILENT Brass™ system (1997), SVC-200 SILENT Cello™ (2000), Revstar electric guitar (2017), and the YDS-150 digital saxophone (2021), bringing the total number of top awards received to six with these two latest additions.
Venova™ YVS-120/YVS-140 Casual Wind Instruments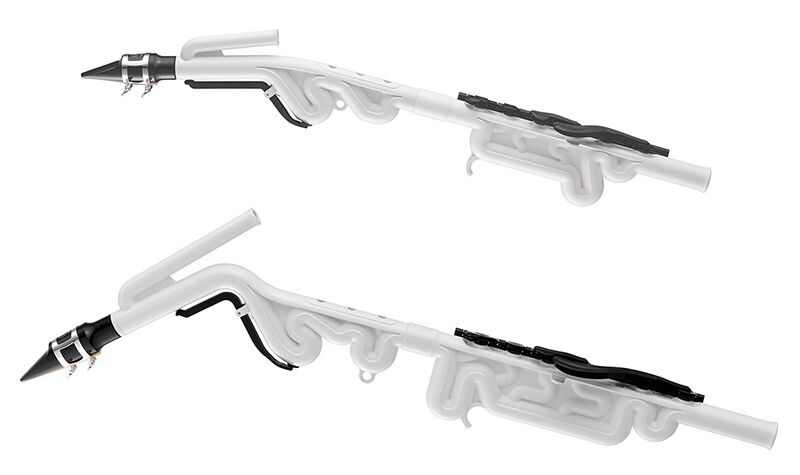 YVS-120 Alto Venova (top) and YVS-140 Tenor Venova (bottom)
The Venova is a completely new type of acoustic wind instrument that was developed to allow players to enjoy an authentic sound and rich expressiveness with ease. The innovative branched-pipe structure and meandering shape allows the instrument to be played with simple fingering resembling that of a recorder, making getting started easy even for players who are new to wind instruments, while still providing a satisfying playing experience for established wind instrument players. The ABS plastic body of the instrument is lightweight yet exceptionally durable and can be cleaned with water, making regular use and maintenance easy. Due to its compact size, the Venova can be taken virtually anywhere, allowing players to enjoy music easily in a variety of settings ranging from the outdoors to casual music sessions. In addition to the YVS-120 alto model and YVS-140 tenor model, the full lineup also includes a soprano model, for a total of three models to satisfy a variety of player needs.
YH-L700A Wireless Headphones
YH-L700A wireless headphones adapt to the media and the user's listening environment to embody "True Sound," that expressthe expression of every sound as the artist intended.
Yamaha's original "3D Sound Field" technology allows the user to select a three-dimensional space , or "sound field," that complements the audiovisual content. This is ideal for not only listening to music, but also watching movies and TV shows on streaming services, as well as short clips on video sharing services. Other unique features include "Listening Optimizer," an exclusive Yamaha technology that optimizes sound in real time based on the size and shape of the listener's ears and head. The simple, distinctive rectangular silhouette of the headphones is the inevitable result of the designers' pursuit of intuitive operation and uncompromising comfort. Fabric and leather materials are used throughout to create a luxurious feel that gently embraces the user. The result is a pair of wireless headphones that provide an immersive sound experience, in terms of both function and design.
Yamaha Design Official Website:
Red Dot Design Award Official Website:
Venova YVS-120/YVS-140 Casual Wind Instruments, YH-L700A Headphones Chosen for Red Dot: Best of the Best Award