Derek Smalls: Stinkin' Up The Great Indoors With Yamaha
Derek Smalls: Stinkin' Up The Great Indoors With Yamaha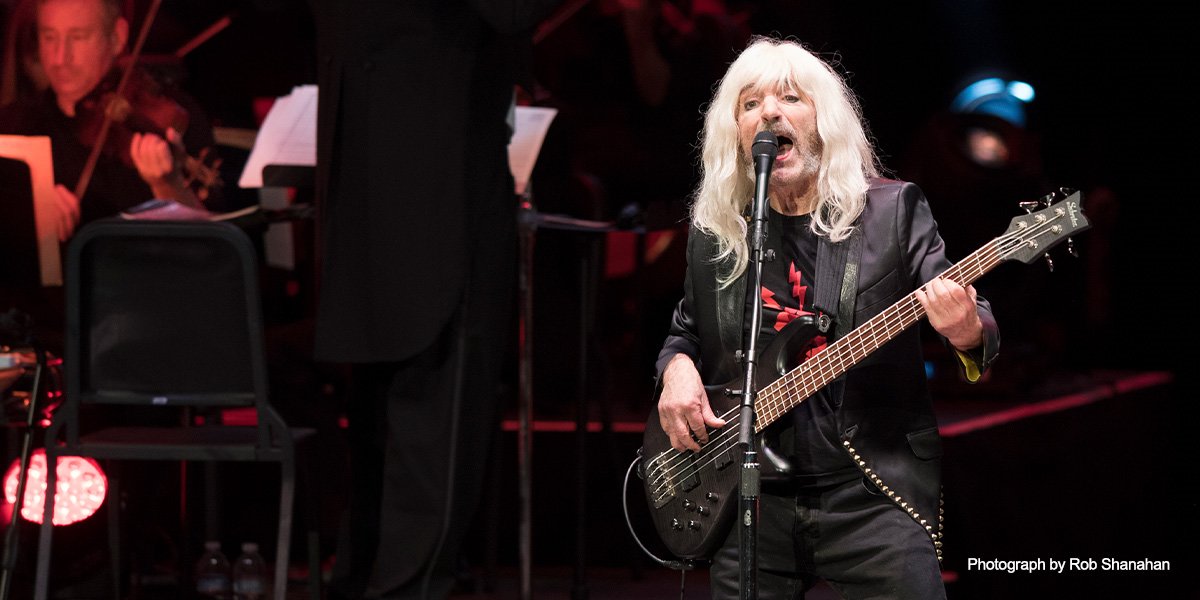 Famed for his struggles with stage props, attempts to smuggle vegetables through airport security and a Big Bottom, former Spinal Tap bass guitarist Derek Smalls recently delighted fans by inviting them to 'rock til you sit' at Lukewarm Water Live, a one date tour of the US West Coast. Increasing age may have brought Derek a subtle change of hair colour but, with a Yamaha RIVAGE PM7 digital mixing system on monitors, he delivered the full majesty of rock.
Playing songs from his 2018 solo album Smalls Change (Meditations Upon Ageing) alongside classics by his former band (formerly known as Spinal Tap), Smalls - known to some as comedian Harry Shearer - invited a star-studded line-up to perform alongside him and a full symphony orchestra.
"This was the first time I mixed a show on RIVAGE PM7," says monitor engineer Gabriele Nicotra, who has also worked with Ed Sheeran, Mark Ronson, John Grant, Lorde, Siouxsie Sioux and Judith Owen. "My friend Jon Sword had a RIVAGE PM7 system at FoH with Bush and, when I saw it, I had the usual feeling when a new Yamaha digital mixer comes out. It improves on the things we all like, without radically changing the surface and screen layouts."
"RIVAGE PM7 is instantly familiar enough to not need a course to learn how to use it. My first day on it was the first day of production rehearsals with the band. It was so comfortable that nobody was aware that I was learning a new control surface!"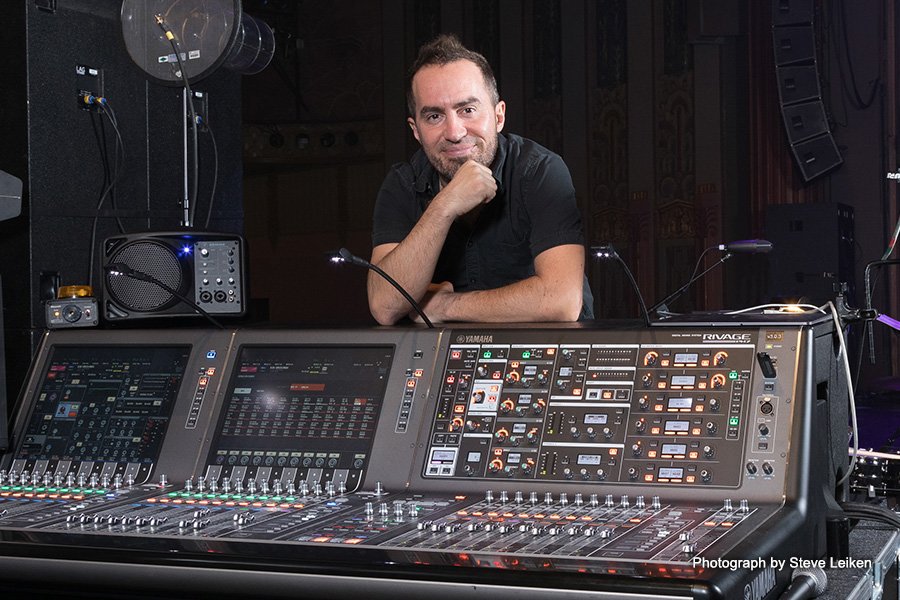 As a show with comedy at its heart, some of the production elements made life a little more complicated for Gabriele than a 'straight' rock'n'roll tour. But the RIVAGE PM7 system played its part in making things as smooth as possible.
"The live orchestra was mainly for the 'wow factor', as we had a recorded orchestra on playback that we mixed with the live one. We did feature the live orchestra more on quieter numbers, as they were really tight, they had great intonation and the bleed was not too noticeable on those songs," says Gabriele.
"Once up and running they were super-easy to work with but, in the tight timeframe of rehearsals, it was a little stressful to make it all happen, both in terms of miking them up and giving them all a hardwired in-ear monitor mix for click etc."
With Derek coming from a band whose lead guitarist famously demanded 'one more' from his amplifiers, it's no surprise that just one - or even one live and one recorded - orchestra was not enough. There was also a 'live satellite linkup' with the Hungarian Studio Orchestra to contend with.
"Good old SMPTE, still going strong!" smiles Gabriele. "It was all part of the comedy of the show and was, of course, pre-recorded and synced with timecode. We might be taking this show to festivals, where we won't have the luxury of having a live orchestra, so I suspect the whole show might have a 'live via satellite' orchestra there."
This was also the method used to feature some of the special guests who Derek / Harry wanted to appear, but could not be at the show itself.
"With names like Donald Fagen, Steve Vai, Snarky Puppy, Rick Wakeman and Jane Lynch involved in recording the album, Harry didn't want to miss the opportunity of having them as part of the show, one way or another. 'Live via satellite' was a neat solution to involve as many people as possible," says Gabriele.
"It was a challenge to keep track of the special guests who did appear live, like Steve Lukather from Toto, Dweezil Zappa and Waddy Wachtel, who all had very limited rehearsal time. They were used to a lot of personal attention, so I had to make sure I could make them feel comfortable while still focusing on Derek, the band and the orchestra. I only discovered that some didn't want to use in-ears when they arrived on stage for rehearsals, but I had budgeted for it and had a couple of spare wedges which we could throw in for them.
"Luckily I had two assistants - Emily Arnold and Sean Herman from the show's audio rental company Sound Image - who worked very hard with me to make it all happen as quickly as possible."
Naturally the show's climax was the Spinal Tap classic Big Bottom, featuring an unprecedented number of bass guitars on stage at the same time.
"We had never rehearsed it with all the guests, which made for an interesting experience on the day," says Gabriele. "I was able to copy and reuse the guest mixes from the other parts of the show, so they all had a workable mix. The new Isolate feature on the RIVAGE PM7, paired with Recall Safe, made it easy to pick and mix certain parts of various snapshots to copy into the final scene on the fly."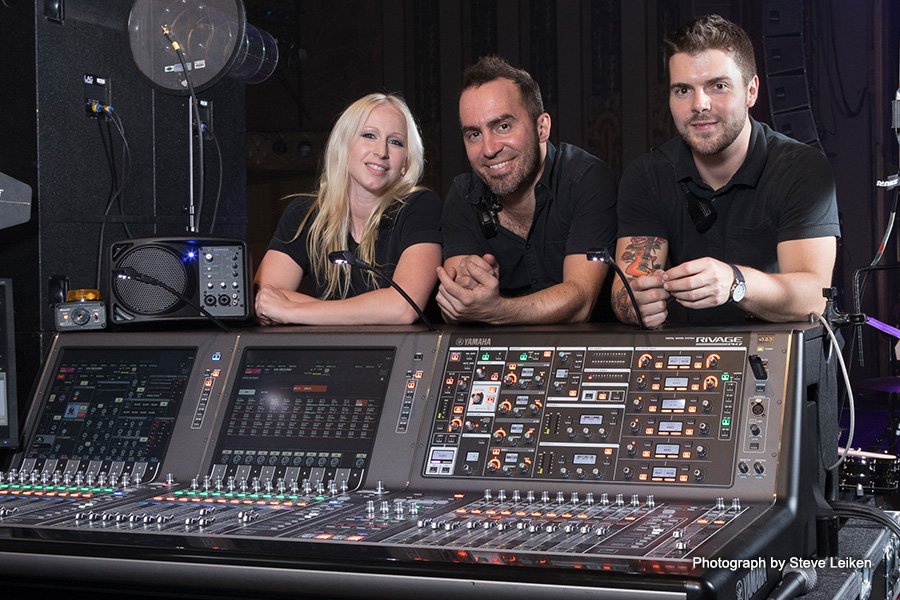 It may have only been a one-date tour but, as you would expect, there were plenty of comedy moments - both intentional and unexpected.
"Derek / Harry is a very funny guy, as is the show's musical director CJ Vanston, and we all laughed so much. Staying focused on the job proved a little complicated at times, but that is a good problem to have," Gabriele smiles.
"Derek gets on and off stage using a 'pimped-up' mobility scooter and we found out the hard way that they don't drive over cable ramps very well. The way it struggled to go over the ramp while he delivered a deep monologue was hilarious and so Spinal Tap.
"Another funny moment came when the inflatable torpedo (a radio-controlled blimp) developed a mind of its own and nearly crashed into people, lighting fixtures, the ceiling, etc..."
In the serious business of audio production, however, the RIVAGE PM7 system delivered everything Gabriele needed, with no problems whatsoever.
"The RIVAGE PM7 is what we have all been waiting for, it's incredibly powerful and versatile. Since the long-gone days of the PM1D, we all had to accept limitations or learn to use different consoles from different manufacturers. These all came with some kind of compromise - be it less stability, less 'fun' factor (some of them look like they would be at home in a power-plant, they're very uninspiring to mix on) or less sonic quality," he says.
"It has given me more of what I already liked about the CL series. I love the higher sample rate, the new plug-ins and the Rupert Neve Designs SILK texture control. I also love the higher channel count. I did a show with Derek in January this year, using a CL5, and it was maxed out before even adding an orchestra, so we had to share in-ear mixes for all the guests appearing on stage."
"I also love the extra user-defined keys with screens. This meant that, for the first time ever, my console had no marking tape anywhere on it! Having way more user-defined fader banks also allowed me to program it to always have the channels I needed for each specific section right there in front of me."
He concludes, "The RIVAGE PM system puts Yamaha back in the driving seat. It unifies the best features we have all learned to expect, introduces some excellent new ones and gives us more of what we liked from previous Yamaha models. And that's all while keeping the interface familiar enough so that anybody with experience on previous models can easily navigate around it.
"Now that I have experienced RIVAGE PM7, I will always want to use it."
Derek Smalls: Stinkin' Up The Great Indoors With Yamaha