Swarovski, Tord Boontje And Yamaha Collaborate During London Design Festival 2017
Swarovski, Tord Boontje And Yamaha Collaborate During London Design Festival 2017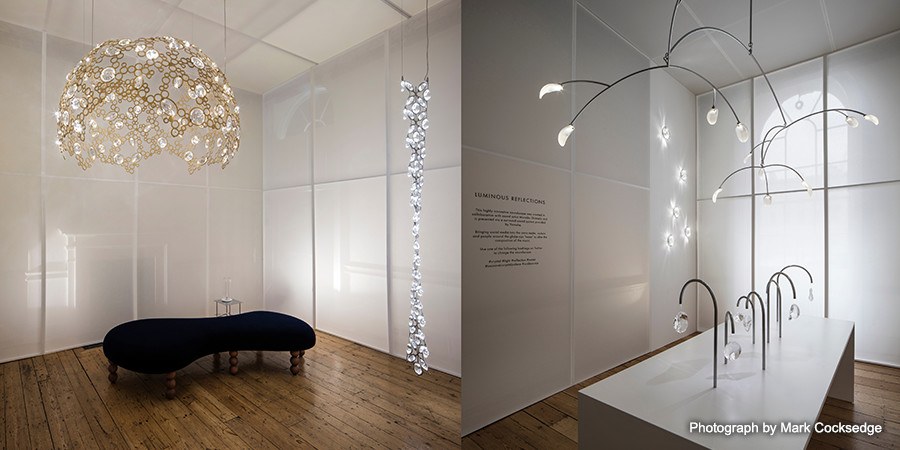 London Design Festival 2017 (September 16th - 24th) sees the global launch of Tord Boontje's new collection of chandelier and crystal lighting components, designed exclusively for Swarovski Crystal Palace in his 15th year of collaboration with Swarovski. The installation includes a highly innovative soundscape which was created in collaboration with sound artist Manabu Shimada and is presented via a surround sound system provided by Yamaha.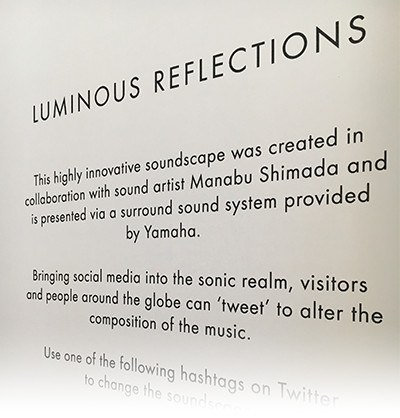 Yamaha audio equipment is bringing the unique interactive sound design to life. Visitors and people around the globe can tweet to alter the composition of the music by using one of the following hashtags on Twitter to change the soundscape: #crystal #light #reflection #water #swarovskicrystalpalace #tordboontje
The installation is accompanied by a quadrophonic, surround soundscape, delivered by four Yamaha VXS3F loudspeakers and a VXS3S sub in each room. Uniquely, the use of a Yamaha MTX5-D matrix processor assists the soundscape to be altered in real time by people using Twitter.
The sound field in each space has been created from four separate tracks of composed music and ambient effects, run from a Macbook Pro via a Steinberg UR824 audio interface. The MTX5-D is used to create an audio matrix and control EQ and speaker processing.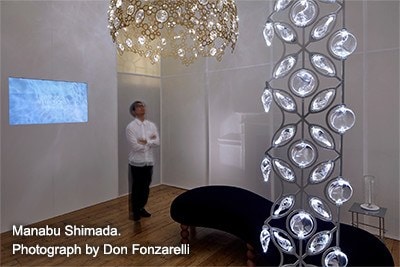 "Shimada has created a randomly-programmable software control, which responds in real time to tweets from anyone, anywhere in the world. Working with Swarovski, he has allocated key trigger words which will adjust the parameters for each individual track in real time," explains Yamaha senior product specialist Karl Christmas, who designed and specified the Yamaha system.
"Each trigger word will change one if the parameters, including direction and position within the soundfield, velocity, pitch, volume and channel on/off. Because of the randomness with which trigger words will be tweeted at any time, every minute of the soundscape will be unique."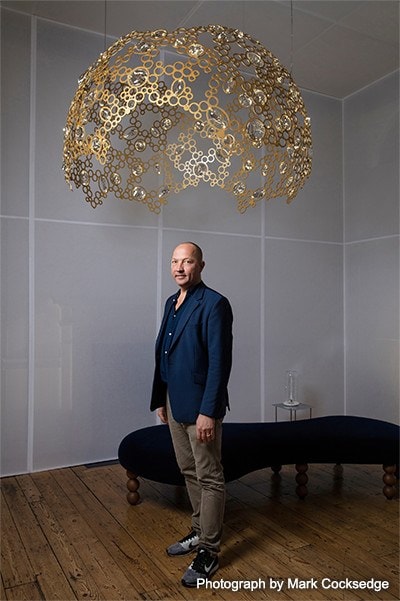 Tord Boontje has collaborated with Swarovski for 15 years on projects ranging from homeware to lighting and jewellery to installations. This year, Boontje has collaborated with Swarovski to produce Luminous Reflections, a collection of three crystal lighting components (Arc, Swirl, Circle) and four lighting designs (Luminous Bough, Lustrous Aura, Shimmering Jewel, Radiant Light) released under the newly revived Swarovski Crystal Palace - a range of inspiring lighting pieces and components created in collaboration with visionary designers.
The three crystal components have highly innovative fluid, unfaceted surfaces – the first of their kind to be launched by Swarovski, whose traditional expertise is precision-cutting. A new interpretation of crystal, the rippled surfaces are designed to produce soft and organic light effects, replicating the reflections of sunlight on water.
The crystal components were developed specifically for the interior lighting industry and will be available for designers to buy and use in their creations. With the spectacular chandeliers, Boontje showcases the capabilities of the components in designs that can be presented in many formations to create mesmerizing light spectacles.
Tord Boontje comments, "Having worked with Swarovski crystal for 15 years I understand how light and crystal work together - it can illuminate a room with bright sparkle or create dazzling glamour as jewellery. I have also gained an insight into possible innovations, what the future of crystal could be, and for the first time I have had the opportunity to change the shape of the lighting crystals. I wanted a 'soft light' effect; the quality of light you see in a misty or snowy landscape or on a lake as dancing light reflections. For me these chandeliers really celebrate an organic quality of light that crystal can create."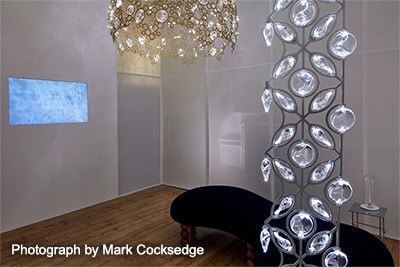 Swarovski Crystal Palace began in 2002 as an experimental platform to enable design luminaries to explore the boundaries of lighting design through the emotive medium of cut crystal. The project quickly evolved into a fascinating journey of discovery and an incubator for new ideas, following collaborations with more than 60 designers over 15 years, including Zaha Hadid, Yves Behar, Tom Dixon, Ross Lovegrove, Arik Levy, Tokujin Yoshioka, Ron Arad and Gaetano Pesce.
The relaunched Swarovski Crystal Palace collections comprise 17 pieces by 5 designers, including Fredrikson Stallard, Tord Boontje, Yves Behar, Vincent Van Duysen and Diller Scofidio + Renfro. These iconic and popular designs have been updated with the latest lighting industry technologies. The chandeliers now feature lead-free Advanced Crystal components and the latest LEDs, making them more sustainable. The shade and intensity of the light can be changed (e.g. white-yellow), and the chandeliers can be integrated into a smart home. The designs have also been refined with improved suspensions, including canopies and fixing points. More stunning pieces from the Swarovski Crystal Palace archive are being revived, upgraded and prepared for launch in the coming months and years.
・The Swarovski Crystal Palace collections will be available to purchase through Swarovski sales teams and selected retailers globally.
・All pieces are made to order with delivery within approximately 8 weeks. Customized pieces can take longer depending on the design.
・Chandelier prices range from €1500 to €150.000, rising with customisation.
Swarovski, Tord Boontje And Yamaha Collaborate During London Design Festival 2017