Biography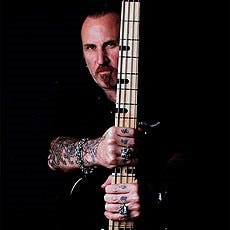 Levent Candas was born in Ankara. Being the son of the famous opera singer Nuri Candas, he was involved with classical music since he was a child. While Candas was continuing his education at the Italian High School, he got interested in playing the drums and formed his first amateur band 'Logos'. Starting his classical double bass studies at Istanbul University Conservatory (1979) with master musicians like Yaz Baltacigil and Engin Babahan, he also started working with the beloved rock band 'RA' and became the bands lead singer at 1982. The band performed many concerts together.
Candas moved to Italy at '83 to study at Academia di Santa Cecilia, where he could not succeed at his first year. Not loosing any more time, he attended T.L da Victoria, a Vatican based music school. At 1985, he was accepted to study at Academia di Santa Cecilia as a double bass student, where he studied till '89 with Prof. Federico Rossi. He performed with Chief Conductor Bruno Aprea in the Conducting School Orchestra. He performed at one of the biggest Basilicas in Rome, Santa Maggiore, with the T.L. da Victoria Orchestra, to an audience including Pope II Jean Paul.
At '89, he came back to his homeland and joined the Turkish Army.
For Eurovision Song Contest, he represented Turkiye in Rome, with artists like İzel Celikoz, Reyhan Karaca, Can Ugurluer and Gur Akad at '91; Volkan Basaran, Toygarhan Atuner, Yesim Vatan (13:30 Band) at '92.
Candas started performing with the legendary pop icon; Ajda Pekkan at '91, as a back vocalist. Later, he started performing with artists like Aysegul Aldinc and Emel Muftuoglu.
At '95, he started performing with another pop icon; Tarkan. These worldwide performances continued for 3 years, including performances at New York Palladium, which was broadcasted live through the nation.
During this period, he also worked with Aşkın Nur Yengi, Oya-Bora, Zulfu Livaneli, Hande Yener, Zerrin Ozer, Demet Sagiroglu, Ah canim Ahmet, Sertab Erener, Emre Altuğ, Sibel Tuzun, Ege, Murat Boz, Zeynep Casalini and Nil Karaibrahimgil.
He performed many concerts with the band Klips, which included Gur Akad, Ozlem Tekin and Ogun Sanlisoy in the line-up.
Levent Candas was the producer, composer and bass player for Sibel Tuzun, including albums Hayat Buysa Ben Yokum Bu Yolda ('97) and Yine Yalnizim ('01).
Other album recordings:
Tarkan / Yine Sensiz
Baris Manco / Mega Manco
Bulent Ortacgil / Tribute
Nil Karaibrahimgil / Nil fm
Felek / 2le
Demir Demirkan / Ates Yagmurunda Cirilciplak, Gercek (Dvd & Cd)
Zeynep Casalini / Kim Galip Çıkar
Ceynur / Ask, Yagmur ve Cikolata
Özlem Tekin / Bana Bi Şey Olmaz (2010)
At '04, he formed the band Dilemma. Their debut album, produced by Cenk Eroglu, Nereye Kadar, was released in '06, from Esen Muzik. Two videos were taken to this album, one was the Hep Bana track, a Dilemma hit from popular TV series Cemberimde Gul Oya and the other one was Var mi ki.
He still performes with the band Cingi at Hayal Kahvesi Beyoglu with Selcuk Sami Cingi (guitar, vocals), Tarkan Mumkule (guitar) and Nedim Ruacan (drums, vocals).
At '09, he co-founded the all-acoustic band A4 with Kenan Vural (guitar, vocals), Burak Gultekin (guitar) and Nedim Ruacan (drums, vocals).
Other Guitar & Bass Artists