Biography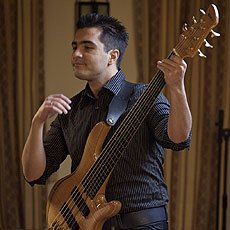 Until 2000 he played in Georgi Borisov´s band named "Dynamite Brass Band" Georgi Borisov (published LP/1998 Beautiful music for beautiful people"), in the jazz formations "Tambu" and "Bells" as well and was endorsed by "Yamaha".
In 2000, after wining the audition, Ivailo worked for the "Big Band" of the Bulgarian National Radio.
The mutual work between Ivailo and the drummer Venko Poromanski in all of the bands which are mentioned above helps him to form a sparkling rhythm section. He played with stars like Mike Stern, David Garfield, George Duke, Pat Appleton.
Ivaylo was a bass player in the home band of the Bulgarian TV Show "Music Idol" for two years. At the moment he plays in the home band of "Ivan & Andrei´s Late Night" every Monday to Friday. In September and November 2009 Ivaylo played 2 shows with Jon Lord who will perform several shows more with him in 2010.
Ivailo's presence on stage gives confidence and a stable funky base of his band "TE". He is an extremely strict musician who plays with his own style and sound.
Other Guitar & Bass Artists