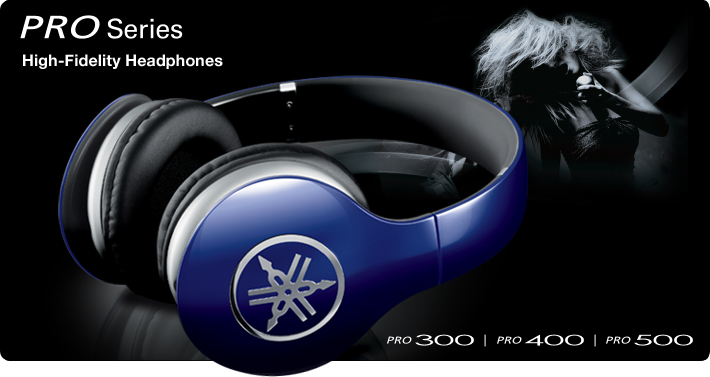 If you love music, listen to the PROs
As the world's largest musical instrument manufacturer and the leading choice of professionals for studio and concert gear, Yamaha knows better than anyone how to make your music sound its absolute best. Now you can enjoy the Studio Sound experience anywhere you go. PRO Series headphones go beyond just "powerful bass" to authentically reproduce any style of music. From Classic Rock to Hip-Hop, from Latin Jazz to Delta Blues, the PRO Series brings all your music to life. Your collection is waiting…
MOBILE-OPTIMIZED DRIVERS
The PRO Series headphones combine the finest materials with Yamaha's legendary tuning know-how to deliver a superb listening experience. They incorporate a newly-developed Yamaha-proprietary driver design with neodymium magnets that provide maximum efficiency when used with mobile devices such as smartphones, tablets and other portable music players.

PRECISION-CRAFTED ACOUSTICS
Both the earcups and the ear cushions offer excellent acoustic properties through meticulous attention to material selection and shape design. From delivering deep, tight bass to clear, precise mids and highs, they play a critical role in reproducing music authentically, with a lifelike soundstage.

HIGH-PERFORMANCE CONNECTIVITY
Not all headphone cables are created equal. PRO Series cables are flat, tangle-resistant and made from a material that is both durable and designed to reduce "touch noise" transfer effects. They attach directly to a single earcup, keeping it out of your way. The flat construction separates the internal cores to minimize interference and the 4-ft. cable terminates to an L-type connector, allowing for low-profile connection to mobile devices.

STRONG, ADJUSTABLE HEADBAND
Built to handle the rigors of everyday use without wearing you down, the PRO Series feature an adjustable, reinforced headband with ample padding textured for a pleasant feel.

NOISE ISOLATION WITHOUT PAIN
The headband is shaped to apply just the right amount of pressure – snug enough to provide noise isolation, yet light enough for long listening sessions.

LUXURIOUS YET DURABLE EAR CUSHIONS
The PRO Series ear cushions are extraordinarily soft and smooth, with a feel so natural you'll never want to take them off.


FUEL-INJECTED DESIGN
Drawing inspiration from the world's finest musical instruments and motorcycles, the PRO Series headphones get your heart racing before you even plug them in. Gorgeous geometry and ultra-clean design curves are matched with premium color and finish materials, then emblazoned boldly with Yamaha's iconic tuning-fork marque, conjuring the power and energy of high-performance supersport bikes.

CONTROL AT YOUR FINGERTIPS
Certified as "Made for iPod, iPhone and iPad," the PRO Series offer an in-line remote/microphone on the 4-foot cable that is optimized for use with Apple devices. It enables intuitive control while listening to music – such as pause/play, skip to the next song, or skip to the beginning of a song – and the ability to answer/end phone calls.

MADE TO MOVE
The PRO Series headphones feature a hinged headband that folds for compact storage. They also come with a handsome protective carrying case, allowing you to hit the road with style.

รายการสินค้า
แสดงรายการที่ 1-6 จากทั้งหมด 6 รายการ
ระบุ:

สินค้าที่ผลิตในปัจจุบัน
เรียงลำดับตาม:
ราคา: 15,900.00

The HPH-PRO500 delivers a sound so extraordinary – so real, so clear, so enveloping – it makes your pulse run faster and sends shivers down your spine. It transports you to another time and place.

มีสีอื่นด้วย
ราคา: 9,900.00

Just because you travel light doesn't mean you have to compromise on your music. The HPH-PRO300 gives you the best of both worlds – portability and power. Its sleek, lightweight design is perfectly matched with a bold, precise and vibrant sound.

มีสีอื่นด้วย
ราคา: 5,900.00

Headphones that embody true Yamaha quality with incredibly detailed sound and superb comfort.

มีสีอื่นด้วย
ราคา: 4,690.00

Listen to music with the EPH-100... And discover greater detail and clarity than ever before.
กลับไปด้านบน